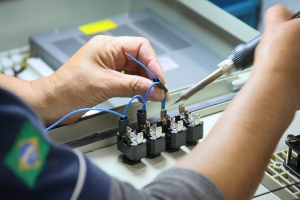 College isn't for everyone, and if you don't decide to pursue your educational goals, then it will be in your best interest to take on a skilled trade for your career. You can start as an apprentice for many of these jobs, although it would help your career prospects if you attend a technical college or even a vocational high school. Skilled trades can be a great source of income, and usually the people working these jobs truly love what they do. So let's take a look at the top 5 skilled trades of 2014, and see if we can get you interested in starting one of these excellent careers.
Top 5 Skilled Trades of 2014
1.)    Electrician-
This has long been considered one of the best skilled labor careers to pursue, because the demand for electricians will always be high and you can have a very long career in the industry because it's not as labor intensive as other jobs. You'll most likely start at anywhere from $15-$20 per hour as an entry-level electrician, which can quickly increase to $30 or more per hour.  Some electricians who own their own businesses can make upwards of 85,000 per year, so if this type of work suits your interests, then you should definitely pursue it.
2.)    HVAC-
It's truly a great time to become an HVAC technician, especially with the resurgence of the solar panel industry. They are responsible for installation of heating and cooling systems, fixing compressors, and handling the installation of the electronics associated with these systems. It's a complicated job, but with a short vocational program and a few years of experience, you can be earning anywhere from $20-$30 per hour. However, like many other skilled trades, if you start your own business and create a specialized practice, you'll have potential to earn six figures.
3.)    Wind Turbine Tech
This skilled trade is interesting, because since the industry is so new, there aren't many educational programs that will prepare you for a career. However, if you can land an entry-level position, be prepared to quickly rise up the ladder in a rapidly growing industry. The demand for these types of workers is very high, and there are some techs earning 80,000 per year after several years of experience. Not bad for a job that requires little to no educational background.
4.)    Plumber-
Plumbing has always been considered a desirable blue collar career because of the earning potential. Most of your job will require fixing water pipes or repairing water heaters, but sometimes the job can get messy. However, if you've ever employed the services of a plumber, you know that they charge a significant amount of money for labor. Plumbers earn an average of about 42,000 per year, and you can make more as your progress in your career. The more experienced plumbers can make a lot more than this. Not bad for blue collar work!
5.)    Elevator Mechanic-
This job can be attained by simply taking on an apprenticeship, and the labor is so specialized that you'll be sure to earn a great hourly wage. In fact, this is one of the few skilled trade jobs where you can earn over $100,000 per year without owning your own business. Realistically, when you are starting out you'll be making way less, but if you stick with it you could be earning an incredible salary.
As you can see, blue collar work can be lucrative if you play your cards right. You need to pick a career that is specialized, and pursue technical school if the job requires it. With the proper credentials, you could land one of these jobs and be well on your way to enjoying a successful career. These trades are great because no matter which job you have chosen, there is always potential to switch over. You just need to be ready to get your hands dirty and work hard every day. Blue collar work isn't easy, but it's the right career move for many people.
The following two tabs change content below.
Matthew Welch
Jobdiagnosis blog author Matthew Welch is an SEO strategist and content marketer from Boston, MA. Read blog content relating to job search by Matthew Welch.
Latest posts by Matthew Welch (see all)