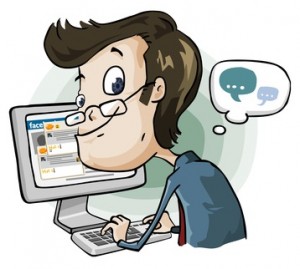 Usually, you'll hear that Facebook is for family fun. Most of the people look at this popular social media website as a way to keep in touch with their family and friends. However, Facebook can also serve as an excellent job search or job hunting tool – provided you know how to utilize it for all its benefits. In fact, there are many professionals who are effectively using Facebook to find jobs. Facebook has the eminence of being the 2nd most popular website according to the Alexa global rankings. This social media website is a regular tool for millions of people who spend a good amount of time using it.
There are various ways in which you can use Facebook for your job hunt. Through this social platform, you can showcase your expertise and attract the attention of potential employers.
But do you know how?
Given below are some of the most important tips that you should follow to get the most out of Facebook as a jobseeker.
Connect with the Right People
If you are looking for your next job, the very first thing is to start using Facebook as a professional networking tool. On this social media website, you'll find plenty of employers, CEOs, entrepreneurs, recruiters and hiring managers. Depending on the industry you belong to, you can locate the right people and connect with them for either job offers or job information.
In case you are planning to work in a particular company, it would be a good idea to connect with the employees or hiring managers of that particular company while making the job search process easier.
Create a Facebook Page
One of the best ways to use Facebook as a job search tool is to create a personal Facebook page. Once you have created it, you can add as much information to your page as possible. As a matter of fact, you can use this page as a blog where to showcase your skills, knowledge and expertise. For example, the Notes tab of the page allows you to add your point of views or opinions on topics that are related to your industry or field of work.
A Facebook page is searchable via Google, so it can bring you a number of benefits when an employer searches for your name. In any case, don't forget to promote your FB page and gather more and more 'Likes'.
Join Relevant Groups
In order to expedite your job search, you should also join a couple of Facebook groups belonging to your industry. Once you have joined, you can share and discuss different industry-related topics. However, you need to choose those groups that are industry-relevant, popular and active.
Make Use of Facebook Ads
If you are ready to spend a few bucks, Facebook Ads can quickly bring you lots of potential job opportunities. First, you'll need to create an attention-grabbing ad which tells about the job position you are looking for. The Facebook Ads feature also allows you to promote your ad to a specific geographical location, age-group, industry etc. That means you can create highly targeted ads which will quickly lead you to your dream job.
While using these tips to help your job hunting, you should follow the basic etiquette so that you use Facebook to show only those things that employers would like to see. For example, you should not post any images or posts that could be interpreted as racist or discriminatory. Likewise, you should not do or say anything on Facebook that might reflect poorly on your professional reputation.
Are you using Facebook to find your next job? Please comment.
The following two tabs change content below.
Peter is a Senior Managing Consultant at Wenulima Pty, a broad-based consultancy company which specializes in social media, content marketing, hospitality, languages and business management. He's well known as a corporate and personal social media branding strategist. He regularly coaches individuals in key areas like leadership and management.
Latest posts by Peter P. Kadzutu (see all)