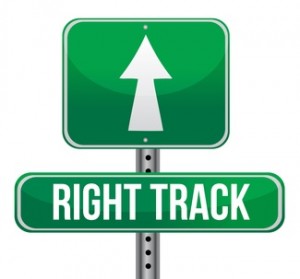 Searching for jobs in the midst of fierce competition is a big challenge for jobseekers. There are many job applicants who spend months without getting any results from their job search. In order to beat out the competition and get hired for your dream job without wasting a lot of time, you need to refine your job search strategy. There are several guidelines that you need to follow to expedite the job hunting process and achieve success.
Given below are five tips that you can use to keep your job search on the right track and get the desired results in time.
#1. Research Job Search Materials Really Well
To get started with the job search process, you'll need to put together job materials including emails, resumes, curriculum vitae, letters and work portfolio among others. Thankfully, there is tons of literature on how to get all these essential job materials in order so as to increase your employability.
In addition, you can also check out different samples of these job materials to get a good idea of how to go ahead.
#2. Create a List of Valuable References
References, provided they are really influential, can make a huge difference to your job search. As soon as you know it's time to start looking for a new job, you should start collecting useful references. Choose the references carefully, as you'll list them on your resume.
Many employers ask jobseekers for a reference list as part of the screening process. Know how to create a good list of references so that you can make a good impression on employers with it.
#3. Don't Depend on Just One Job Board
Many jobseekers make the mistake of depending on just one major job board. You should be aware of different types of job boards and search engines that can aid you in the job search process. Apart from international or widely known job boards, there are regional or city-specific job boards as well. Try multiple job boards to quickly find jobs you are looking for.
#4. Use Social Media
In order to keep your job search on the right track and get results quickly, you should embrace the social media technologies. Popular social media websites like Facebook, Google Plus and Twitter can quickly expedite your job search, placing you in front of potential employers, hiring managers and recruiters. If you don't have a profile on these social media sites, go create it right now. In any case, make sure you fill out your profiles up-to-date.
#5. Avoid Time Wasters
Most of the jobseekers waste their valuable time in one way or another. If you are conducting job search, you may be spending some of your time too. In order to save your time and utilize it efficiently, you need to become aware of the biggest job search time-wasters.
Blind networking, applying for the wrong jobs and social media addiction are some of the biggest time-wasters that you need to open your eyes too. While in the job search mode, every minute is precious.
If you have more tips, please feel free to leave them in the comments section below.
The following two tabs change content below.
Carl began his career as a recruiter in the year 2000. Since then, he has interviewed hundreds of job applicants, dealt with several hiring managers and helped a lot of people find better jobs. He's passionate about guiding people towards their best-suited careers.
Latest posts by Carl Mueller (see all)