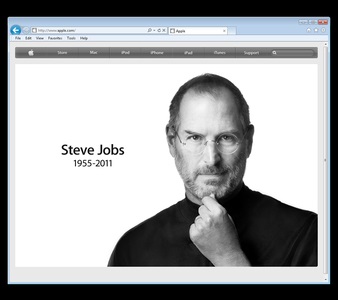 Born in San Francisco in 1955, Steve Jobs went on to become one of the greatest entrepreneurs the world has ever seen. He co-founded Apple Inc, which is the company that created the iPhone, iPad, Mac laptop/desktop computers and iTunes. Whether you want to become an entrepreneur, a marketer or an inventor, there's a lot that you can learn from Steve's life.
The most beautiful thing about Steve's life is that it teaches almost everyone, regardless of the industry or the sector one belongs to, some great lessons to achieve success.
Even if you're a jobseeker or a recent graduate planning to step into the real world to build a successful career, you'll learn a lot by taking a closer look at the way Steve made a real difference and how he changed our lifestyle for the better.
Here are four key lessons –
#1. Follow Your Passion
One of the biggest secrets behind Steve's astounding success is that he did exactly what he loved to do. And he loved what he did. It was only due to his strong passion that made Apple Inc one of the most valuable and most loved companies of our time.
Steve advised that you have to find your passion to make it big. If you think you haven't found it yet, you should keep on looking. To become successful in your professional life, you shouldn't just need to find a job to make a living. Instead, you should find a career that will take you closer to the goals you want to achieve.
If you're not enjoying what you're doing, you may be in the wrong job. It's, therefore, advisable to go and find something to do that won't actually feel like work.
#2. Don't Hesitate to Take Risks
Right from his youth, Steve was always ready to ask for things that he wanted or do things that he wanted to do without any hesitation. At the age of 12, he wasn't afraid to get in touch with the HP co-founder Bill Hewlett to ask him for spare parts. He was ready to take risks because he was never afraid of failure.
As a professional, you should learn this important lesson and start acting upon it from right now. You'll never know what destiny has in store for you unless you go for it without worrying about whether you'll be successful or not.
#3. Solve a Problem
Every time Steve came up with a new product, he actually offered an easy and better solution to a problem. You might feel surprised thinking how this particular piece of advice fits in with your requirements as a jobseeker or a professional.
Yes, it does.
While looking for a job, you should start looking at yourself as a product and identify those problems you can solve for an employer you want to work with. If you're able to offer effective solutions to a potential employer's problems, no one will be able to stop you from getting hired. Do you get the point?
#4. Listen to Your Inner Voice
It's your career, and the final decision should always be your own. Steve warned that you aren't made for living somebody else's life. So, you should never make or change your decisions based on other people's opinions. It's only you and no one else that knows what you truly want to become.
So, don't ignore your inner voice.
Are you ready to follow Steve's advice? If you remember any of his great quotes, please share in comments.
The following two tabs change content below.
Peter is a Senior Managing Consultant at Wenulima Pty, a broad-based consultancy company which specializes in social media, content marketing, hospitality, languages and business management. He's well known as a corporate and personal social media branding strategist. He regularly coaches individuals in key areas like leadership and management.
Latest posts by Peter P. Kadzutu (see all)