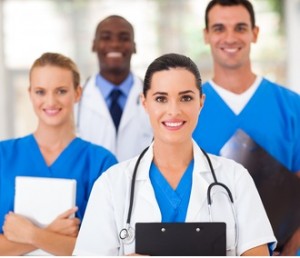 Do you plan to get a job in healthcare? If there's one industry that continues to create jobs, despite the ill effects of a sluggish economy, it's healthcare. Over the next five years, more than 3.2 million new jobs will be added to the healthcare industry. That's why, pursuing a healthcare career is going to be a good decision for fresh college graduates and aspirants. However, you need to make sure that a healthcare career is a good match for your interests, skills and aptitude.
There are plenty of career opportunities in the healthcare industry. Given below are 10 most popular healthcare jobs you can choose from.
1. Dentist
Good oral health seems to be the new buzzword. In today's world, people are more concerned about their appearance and style. And teeth are certainly an important part of an individual's appearance. If you want to join the healthcare industry as a dentist, you are on the right path.
According to the Bureau of Labor Statistics, dentist jobs will grow at 21% over the next five years. Though the average annual salary of a dentist is around $80,000, you can earn as much as $100,000 or more.
2. Registered Nurse (RN)
The healthcare industry is always requiring more and more nurses. If a nursing career is something you really like, you should start preparing for this career without any delay. According to the Bureau of Labor Statistics, employment for registered nurses will grow at a rate of 26% over the next five years. While working as a RN, you can expect to earn an average salary of around $64,500. With more experience and skills, you'll earn more.
3. Occupational Therapist
One of the top most jobs in healthcare is that of an occupational therapist, who work with patients of all ages. The best part about this job is that these professionals are required not only in hospitals, but also in rehabilitation centers, schools and patient's homes. The expected employment growth for occupational therapist jobs over the five years is around 33%. On an average, these healthcare professionals earn around $73,500.
4. Pharmacist
A pharmacist is mainly responsible for dispensing drugs and advising patients on the correct use of prescribed medications. The United States has a high demand for those pharmacists who are well-trained and adequately qualified. The job growth in this field of healthcare industry is expected to be 25% for the next five years. While working as a pharmacist, you can earn $81,000. Many pharmacists earn as much as $144,000 per year.
5. Healthcare Administrator
As the job title suggests the responsibility of a healthcare administrator is to take care of the administrative tasks including financial management, supplies management, material purchase, records maintenance etc. Overall job growth for these jobs is expected to be around 17%. On an average, a healthcare administrator earns around $96,400 annually.
6. Veterinarian
It's not only humans that require medical care. Animals too need professional medical care. If you have a passion for working closely with animals or pets, becoming a veterinarian can be a good idea. The expected job growth for this top healthcare occupation is 36%. A veterinarian earns a median annual salary of around $83,000.
7. Physical Therapist
Physical therapy is also a top growing occupation in the healthcare industry. The main role of a physical therapist is to help patients (of all ages) live a life free of any kind of general body pain or disabilities. Employment in this field is expected to grow at a rate of 27%. The median annual wage of a physical therapist is around $78,000. Experienced physical therapists earn much more.
8. Medical Secretary
A medical secretary takes care of the documentation work at a physician's office. But they may be asked to take on more responsibilities. Provided you have excellent people skills and expressive communication, you can plan to become a medical secretary at a doctor's office. According to the BLS, jobs for medical secretaries will grow at a whopping rate of 41%. A medical secretary can earn an average annual salary of $39,000 or more.
9. Medical Assistant
If you have an interest of working in the healthcare industry, you can also prepare for occupying medical assistant job positions. The day-to-day responsibilities of these professionals include administrative and clinical tasks. The average annual salary of a medical assistant is around $44,000.
10. Home Health Aide
The healthcare industry also welcomes home health aide. If you want to become a part of the ever-growing healthcare industry, you can also decide to become a home health aide, who works with patients like their family members. From dressing the wounds of the patient to helping them complete their daily care, home health aides do many things.
The BLS projects a huge employment growth of 69% for home health aide jobs for the next five years. The average annual salary of these medical professionals is around $22,000.
Which one of these healthcare jobs is your favorite? Please comment.
The following two tabs change content below.
Carl began his career as a recruiter in the year 2000. Since then, he has interviewed hundreds of job applicants, dealt with several hiring managers and helped a lot of people find better jobs. He's passionate about guiding people towards their best-suited careers.
Latest posts by Carl Mueller (see all)