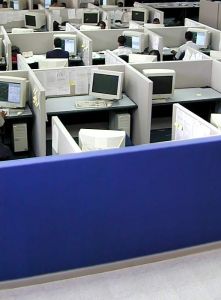 When you are unemployed, the pressure is usually on to find a job. Most people have expenses or even others to care for, so when money is tight anxiety can begin to set in. There are many resources out there to help you find a job. You can use a search engine, like JobDiagnosis, that will show you job listings in your area. Or, you can do it the old fashioned way, and hit the streets looking for work. However, keep in mind that in this day and age, eventually you will have to apply for the job online. Most companies have an online application that needs to be filled out before you can continue with your search.
Make Contact With the Hiring Manager
Usually the smartest thing to do is to apply to a job first before you make contact with the hiring manager. So after using JobDiagnosis to find the job of your choice, figure out which location you'd like to make contact with and go in person. Hiring managers want to see ambition and commitment. When you do decide to make contact, you should carry a few copies of your resume with you in a clean folder. Also, make sure that you are well groomed, clean-shaven, and dressed appropriately. They always say to dress for the job you want but not the job you have, but you want to make sure that your clothing is suitable for whichever workplace you are entering. For example, if you are applying for a job in retail, it might not be in your best interest to wear a suit. On the other hand, you don't want to underdress either. So, figure out what employees typically wear, and try to fit the mold of what the manager is looking for in a new hire.
Stand Out From the Pack
When you are using our search engine to look for work, you will be competing with several others for the same job, so you want to make sure that your resume and credentials stand out. Many companies use software to scan and filter resumes in order to come up with a short list of candidates. This makes it easier to "cut the fat." So, if you know which job you'd like to apply for you need to tailor your resume to end up on as many short lists as possible. Sometimes you will need to edit your resume to suit the job description, so make the appropriate adjustments. Also, when you do apply, make sure it is to as many places as possible. Use the shotgun effect. Sure you'll have your favorite jobs and places that you would really love to work, but the more desirable the job is the more competitive it will be. You need to have some safer jobs lined up so you stand a chance of finding something. When you are unemployed and desperately need work, sometimes it is better to accept a job below your skill level so you can at least start earning some wages. In the mean time you can apply for more jobs outside of work hours. It's always easier to find a job when you already have one. Since we live in the internet and technology age, applying for jobs has become much easier. Our search engines pull millions of jobs from all around the world, so the possibilities are endless. You need to focus on making yourself a strong candidate, and if you can, make contact with the hiring managers to show your interest in the position.
Whether you want to use old-fashioned methods in finding work or prefer the online route, if you are unemployed you need to spend multiple hours each day looking for work. Don't make excuses. Apply for jobs for eight hours a day if you have to. Not having a job can be an awful feeling. But there are employers out there who will hire you. It comes down to how hard you are willing to work and how deep you are willing to search. Just make sure that when you do land an interview, you dress appropriately for the position you will be working at. Keep your head held high and be persistent. Eventually you will find the job that you are looking for. 
The following two tabs change content below.
Matthew Welch
Jobdiagnosis blog author Matthew Welch is an SEO strategist and content marketer from Boston, MA. Read blog content relating to job search by Matthew Welch.
Latest posts by Matthew Welch (see all)