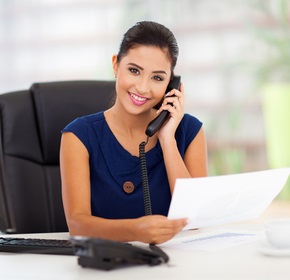 Telephone interviews have proved to be an effective way of quickly screening a large number of job applicants. Though the complete interviewing process may include multiple rounds or stages, the first or initial interview can be easily carried out via telephone. For jobseekers, interviews via telephone is also an excellent opportunity to allow hiring managers focus on the substance, rather than being impacted by the appearance as it happens in a face-to-face interview. That's why it's vital to prepare yourself in advance.
If you are really convinced about the plus points of a telephone interview, you should not make any delay in getting yourself ready so that you have the hiring managers impressed right at the beginning.
So, get ready to abide by these essential telephone interview preparation tips –
Know the Duration of the Interview
Before you actually take part in a telephone interview, it's highly recommended that you find out how long with it last. Depending on the time span that interview will last, you can easily gauge the kind of questions you may be asked. For example, a 10 or 20 minute long interview will most likely include the basic or most commonly asked interview questions.
On the other hand, a telephone interview that continues for more than 30 minutes or up to an hour might include deeper questions.
Therefore, make sure you know the duration of the telephone interview you are going to attend in advance. In case the interview doesn't tell it to you already, go ahead and ask about it.
Get it Scheduled
Even though it's a telephone interview, which can happen anytime, you should get it scheduled in advance. Different hours work for different people. Find out when you are most comfortable and full of energy. Mornings and evenings are good times for a telephone interview.
In case you get a call all of a sudden, request them to call you later. Suggest the interview an appropriate time so you can get yourself ready and gather the resume and other essential information that's required.
Dress Nicely (as Though it's an in-Person Interview)
This point needs a mention because most of the job applicants will attend telephonic interviews in their pajamas. The way you dress has an impact on how you think. Dressed in pajamas, you may not feel as confident and excited as you would in professional attire.
So, don't forget to get dressed nicely!
Be a Good Listener
Since the interview is being conducted on a telephone, you need to listen even more attentively. There are two benefits of listening carefully. One, you'll be able to answer exactly what you are asked. Two, more listening will allow you to write a good thank-you note after the interview ends.
Avoid Continuous Talking
If you want to prepare yourself for a telephone interview really well, you should also remember not to talk continuously for several minutes. You need to keep in mind the duration of the interview. It's advisable that you pause at the interval of every one minute and ask whether the interviewer wants more details. If you talk for several minutes at a stretch, it may make you feel uneasy while leaving the interview less time for asking the next questions.
Exercise an Hour Before
Yes, practicing your voice is important. At least an hour before, you should start to practice a little. You should be aware of how you will sound on the phone. In order to impress the hiring manager or the employer, you must sound clear, confident and lively. It's a good idea to talk to one of your friends or family members as a warm-up exercise.
Were you ever interviewed over the phone? If you have more preparation tips, please don't hesitate to share them below.
The following two tabs change content below.
Carl began his career as a recruiter in the year 2000. Since then, he has interviewed hundreds of job applicants, dealt with several hiring managers and helped a lot of people find better jobs. He's passionate about guiding people towards their best-suited careers.
Latest posts by Carl Mueller (see all)