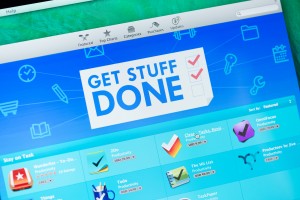 Being productive at work will not only make the day go by faster, but it will show management that you are passionate about your job. Being able to finish your workday responsibilities in an efficient and effective manner is the name of the game, and those that work hard to accomplish this are most likely to succeed. It helps build your reputation, which is important if a long-term career is what you are after. So check out some of these productivity tips for the workplace. They will help you get more done and move your way up the organization's ladder. The extra free time at the end of the week is just an added bonus.
1.)    Less Talk
Being around coworkers on a day to day basis is a great way to spend the workday, but you need to be careful about how much time is being wasted. A quick chat in the break room isn't the end of the world, but workers who minimize the amount of time chatting can simply spend more time working. When you enter the workplace, you have a job to do. If people know you are serious about getting your work done, they will take the hint. You can still be charismatic and personable, but finding a good balance is important. Less talking and more working. Chatting it up might seem like a good idea, but once people start to notice how regularly you do it it will reflect negatively.
2.)    Music
Some people cannot work with music playing in the background, but to others it's the only way. Certain music is definitely better than others, but it's all about personal preference. Finding that perfect playlist or radio station can help get you on autopilot, meaning you will be less focused on what is going on around you and more focused on the task at hand. Slower, relaxing tunes are usually best. Throw on some headphones and drown out the distractions. The workday will flow right on by, but you'll still be able to get everything done.
3.)    Apps
If you are not utilizing apps during the workweek then you're doing it wrong. There are multiple apps available for iOS and Android that will streamline your workday and help you function more efficiently. The type of apps you utilize will depend on many factors, the most important of which being job function. Apps like Google Drive, Evernote, Asana, Harvest, and Insightly are great places to start your app hunt. These are programs designed to help you get things done faster, and make sure that all work-related tasks are getting done. It can be easy to overlook these things, but the use of apps prevents it from happening. Download them and see if anything can work for you.
4.)    Technology
This is related to apps, but the use of technology can really make a different when it comes to productivity. Do you commute to work via public transportation? Consider purchasing an iPad or other tablet with 4G connectivity. You'll be able to access all of your emails, data, etc., and can even get some work tasks out of the way. Most people waste time during their commute just listening to music or reading leisurely materials, but switching up your style can lead to greater productivity. For those without outdated technology, it's time for an upgrade. The devices we use have improved dramatically over the last few years, and older devices simply won't cut it anymore. Having a full arsenal of upgraded technology can be an attractive workplace productivity option, even for the computer-challenged.
The following two tabs change content below.
Matthew Welch
Jobdiagnosis blog author Matthew Welch is an SEO strategist and content marketer from Boston, MA. Read blog content relating to job search by Matthew Welch.
Latest posts by Matthew Welch (see all)