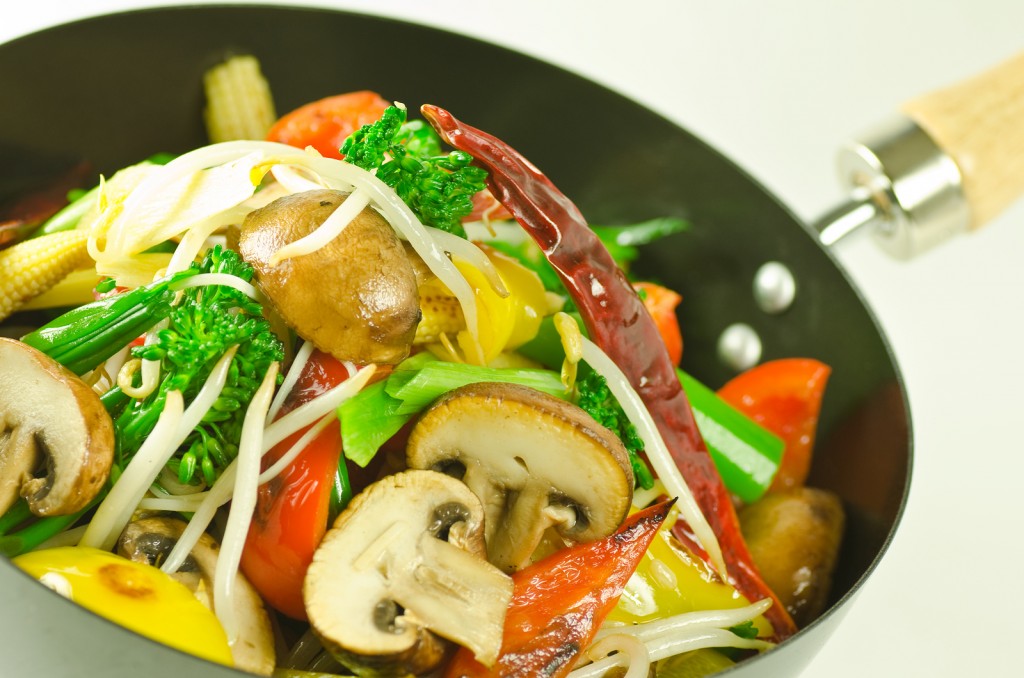 Yesterday we discussed great ways to save money throughout the workday, and one of the methods was bringing your own lunch to work. But it does not have to be a plain old sandwich or a microwave dinner. You can get creative and make restaurant quality food for a fraction of the cost. The following lunches range anywhere from $2-$4 to make, and would easily cost $5-$20 at a restaurant. Toss that concoction into a Tupperware container and you'll be able to taste the savings!
1.)    Stir Fry
This is a pretty straightforward and simple recipe, but there are many options for seasoning and flavor. First, you need to pick the protein. Chicken is usually the healthiest option, but you could use beef, pork, fish, or other meats. Now it's time for the vegetables. If time and convenience are an issue, consider buying a frozen microwavable bag of vegetables from your local grocery store. However, fresh produce is always a better option because it tastes better and has more nutritional value. Cook and season your protein first, and then add the vegetables once the meat is half-way cooked. For seasoning, the standard options are usually soy and teriyaki sauce, but you can get creative. Try some new seasonings or oils and see how it tastes. Another great part about stir fry is that you can freeze it. This way you can make more at once and save yourself some time.
2.)    Buffalo Chicken Sub / Wrap / Sandwich
Everyone loves a delicious sub (hoagie, hero, wedge, etc.) Here is my secret recipe for buffalo chicken, which will bring your sandwich making game to the next level. First, you slice up chicken into small medallions or small chunks. The cut does not matter. Next, you heat up a little oil and fire up the chicken. Add the following seasonings: Course sea salt, fresh ground black pepper, and cayenne pepper. If you want the chicken extra spicy be generous with the cayenne pepper. When the chicken is fully cooked, place it into a bowl and generously coat with your favorite buffalo sauce. You can add cheese, tomatoes, lettuce, pickles, onions, etc once you start building your sandwich. If you want an actual sub, go to the grocery store and buy sub rolls or baguettes. Wrap it up in some plastic wrap and you've got yourself a gourmet buffalo chicken sandwich for under $3. It would have been $7-$10 at the local sub shop. The weird part about this recipe is that if you have leftover chicken, it will increase it's spiciness over time. It actually tastes better if you let the seasonings marinate into the cooked meat overnight. That is, if you enjoy that dull, lingering burn on your taste buds.
3.)    Something With Eggs
Eggs are one of the cheapest forms of protein available at the grocery store. They are also delicious too! Eggs can be transformed into a number of dishes and are a great food item to bring to work. You can make omelets, scrambled eggs with chunks of meat, vegetables, and cheese, or even more advanced dished like quiches. You could even make your own breakfast sandwich. Find a recipe that works for you. The great part about eggs is the quick cooking time. This means you could potentially whip you your lunch for the day before you leave for work in the morning. Break out the carton of eggs and save yourself some money! One simple way to make a large volume of food and use up some old ingredients is to crack about a dozen or more eggs into a baking dish and start adding sausage, ham, peppers, onions, mushrooms, or basically whatever else you find in your refrigerator that needs to get used up. Throw the whole thing in the oven and make a meaty egg pie. Melt a little cheese on top and you have yourself a party. You could make a whole dish for between $5-$10 dollars and it's at least 8-10 meals worth of food.
4.)    Italian Sausage and Peppers
This one really isn't the healthiest option, but it's clearly one of the most delicious. Sausage, peppers, and onions are a traditional combination of ingredients and can be used in many different ways. You could mix it with rice, or even put it on a sandwich. Italian sausage is cheap (when it's on sale, otherwise stay away), delicious, and filling. If you skip the bread and substitute some brown rice, it's actually not too unhealthy for you either!
The following two tabs change content below.
Matthew Welch
Jobdiagnosis blog author Matthew Welch is an SEO strategist and content marketer from Boston, MA. Read blog content relating to job search by Matthew Welch.
Latest posts by Matthew Welch (see all)