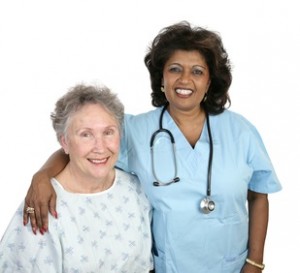 There are many ways to enter into the field of healthcare, start building a career, and earn a good income. Many healthcare jobs require advanced level education while there are others that you can occupy with basic education. If you want to start your healthcare career without spending several years in a college, you may decide to become a home health aide.
It's predicted that all the way up to 2018, the healthcare industry will continue to hire a large number of healthcare aides.
If you plan to become a home health aide, you should abide by the tips mentioned below.
Make Sure You Like the Job
Working as a home health aide involves taking care of patients (of various age groups) in their homes. Before you choose this career in healthcare, you should ensure that you like helping patients live a better life. In fact, you should have a strong passion for serving patients who may be disabled, impaired, ill or very aged. If this is something you like, you should go ahead and prepare yourself to get employed as a home health aide.
Know the Job Description or Duties
The title 'home health aide' is quite descriptive itself. However, it's always advisable to be very clear about what you'll be doing if you choose this occupation in the healthcare industry. As mentioned above, the main responsibility of these professionals is to provide care and assistance to patients. It may include administering medication, keeping a close watch on the patient's health condition and improving their quality of life.
However, the duties may vary on the type of patients you work with. In many cases, you may also be responsible for providing the basic care including bathing, dressing, cooking, keeping home clean etc.
Get the Basic Education
You don't need a college degree to become a home health aide. Nor do you require extensive training. If you have completed a high school diploma or its equivalent, you are ready to enter into this career. Many states don't even require a high school diploma. So, you can start as quickly as possible.
Many employers or healthcare agencies will provide you on-the-job training to acquaint you with the basics of the job. You can learn the key skills of this occupation by other healthcare professionals.
Become Certified
Usually, no licensure or certifications are necessarily required. In case you choose to get employment at large healthcare agencies, you may need to fulfill the certification and licensure requirements of the particular organization. Depending on the state where you want to work and the type of agency or hospital you want to join, you may decide to go for required training and certification.
Learn Key Skills
To perform your duties as a home health aide effectively, you should also develop or grow some key skills. Most importantly, you should learn time management and interpersonal skills. At the same time, you should have a lot of patience. Being strong or physically fit is also a key requirement.
Advance Your Career
Becoming a home health aid is just the beginning. If you plan to grow your healthcare career, it's a good idea to do some more career planning. With a little more education and training, you can move to higher level job positions like medical assistants and nurses among others. Therefore, always keep your focus on learning more and growing your experience consistently.
The fast growing elderly population and other reasons together contribute to creating ample job opportunities for home health aide. If you have adequate skills, you'll never have a lack of jobs available.
How do you like the job of a home health aide? Please comment.
The following two tabs change content below.
Alex Strike has started his writing career in 2010. Now he is a passionate blog writer and essay specialist who has been writing his first e-book.. Alex is a big fan of reading, and he works as a writing coach at the moment.
Latest posts by Alex Strike (see all)