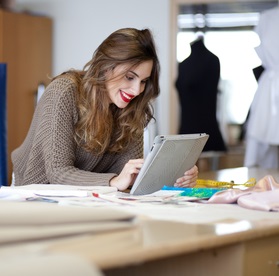 Have you heard of Tom Ford, Stella McCartney and Valentino Garavani? They are some of the most popular fashion designers in the world. Tom Ford wanted to become a film actor. But his obsession with fashion turned him into a much celebrated fashion designer of the modern-day world. Every great fashion designer you hear about today has fulfilled their dreams through passion, commitment and hard work. Fashion design is one of those fields which easily lure a lot of people. But success is achieved through sheer hard work.
Of course, becoming a fashion designer also means earning a handsome income and lots of fame. But do you know what path you should take and how you should get started to become one?
Here are some key tips and information about becoming a fashion designer:
One Industry, Many Aspects
Though it may not be easy to become the next Tom Ford or Stella McCartney, you do have several career opportunities in the world of fashion. Becoming a fashion designer is not only about creating your own label.
Depending on your career preferences and interests, you may choose to enter production management, fashion merchandising, visual presentation, historical research etc. Or you may also decide to lead as the head of a design team in a fashion design company. What I mean to say is that your options are many and open. You have the freedom to choose your own career path or specialty and still make a good amount of money.
Academic Requirements
Once you have decided to become a fashion designer and are ready to commit, the very first step is to find a fashion school and get enrolled. There are tons of fashion design institutions, but you'll need to choose one that offers just the kind of course you're looking for. A typical fashion design course teaches you the step-by-step process of creating a garment for men, women or kids. However, there are advanced post-graduate courses to help you specialize in a particular niche of fashion design. It requires a lot of knowledge, expertise and practice to master the art of designing clothes that will be loved and remembered.
Lots of Creativity
Achieving success in fashion, however, is a lot more than just obtaining a graduate or post-graduate degree in fashion design. As a matter of fact, it's not your degree that will matter at the end of day. What really makes a difference is your creative skills, which come naturally to many people. In order to achieve success in this occupation, you should have a good eye for aesthetic details, a good sense of colors and a sound taste of fashion and trends. Degrees can be acquired, but creative talent isn't something you can develop in weeks or months. It's something that should come to you naturally.
A Good Business Sense
To establish yourself in the fashion industry, you'll also need to have or develop a good sense for business. If you plan to set up your own company, your business sense will decide whether you'll be successful. An in-depth knowledge of the market, it's target audience and how business is conducted in the fashion design industry are essential to obtain success in today's highly competitive world. It's due to this reason that most of the reputed fashion design schools have included business classes in their courses. Right from licensing strategies and running marketing campaigns to producing well-crafted garments, you'll need to be aware of every key aspect of the business.
Start as Early as Possible
Since the process of becoming a fashion designer has several aspects and takes plenty of time, it's always advisable to start as early as possible. Even before you get enrolled into a reputed fashion school, you should start focusing on key subjects like painting, drawing and computer graphics. For those who carry the necessary talents, skills and aptitude, the fashion design industry is always welcoming with excellent benefits.
Please share your thoughts or views below.
The following two tabs change content below.
Alex Strike has started his writing career in 2010. Now he is a passionate blog writer and essay specialist who has been writing his first e-book.. Alex is a big fan of reading, and he works as a writing coach at the moment.
Latest posts by Alex Strike (see all)