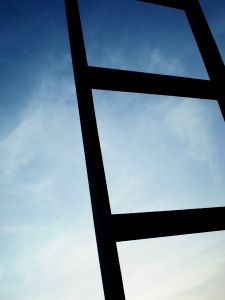 Whichever career you decide to pursue, you need to keep a set of goals in mind so you have something to strive towards. Goals can be based on company objectives, like more revenue or more profit for your organization, or they can be more personal, like gaining better public speaking skills or becoming a better communicator. You should try listing your goals out in order to gain a more transparent image of what you are trying to accomplish. By doing so, you will not only further your own interests, but those of the company that you work for. Managers across all industries look for employees that have a set of goals in mind because they will inevitably be more effective. If you have a clear picture of where you want to end up and what you want to accomplish, your career will take off, and opportunities will start coming your way.
It doesn't matter which career you choose, you should always be striving to rise in your organization. Sometimes with certain jobs, this isn't necessarily a reality, but you can still have goals in mind when you carry out your job. For example, let's say you work as a truck driver, but the opportunity to step into a management role was never a real possibility for you. Maybe your goals could be based on furthering your education on a part time basis. Or, if you love driving trucks, maybe you could focus on buying your own rig and becoming an owner-operator. If there's one thing I've learned in life it's to never be complacent. If you are, whoever is managing you will realize it and be happy to keep you in the same role. Eventually your career will become stagnant, which is never a good thing. You want to keep your momentum and continue to rise.
If you are working in a role with a lot of upward mobility, list out your goals and strive to act on them each and every day. If you want to be a manager but you lack the communication skills that are necessary for the job, then do something about it. Spend your work days improving on your weaknesses. However, your goal should be not only correcting your weaknesses, but further expanding on your strengths. I recently met a person who was excellent with analytics, accuracy, and working/corresponding within a team atmosphere. However, her weaknesses were directly related to her lackluster communication skills and timid behavior around her superiors. By getting a list of goals which included improving upon these weaknesses, she was able to overcome these obstacles, and move into a management role with the company that she had been working at for two years. It wasn't easy, and there were many impediments along the way. But she worked for what she wanted, and is happy that she did.
Think about what you want to accomplish in your career, and make it a priority to ensure that it happens. It's not about making more money or being more successful; it's about improving upon your weaknesses and bolstering your strengths.  If you carry out this strategy and remain adamant when it comes to improving yourself, success and happiness in your current role will soon follow. Never be complacent with your current situation until you are sitting on top of your organization. Even if you are given a desirable role, you should still be striving to move up within your company. If you get complacent, management will pick up on your behavior and will be more than happy to make sure you stay in the same role for as long as possible. Prove that you are serious about your career, and the success will follow shortly thereafter. 
The following two tabs change content below.
Matthew Welch
Jobdiagnosis blog author Matthew Welch is an SEO strategist and content marketer from Boston, MA. Read blog content relating to job search by Matthew Welch.
Latest posts by Matthew Welch (see all)