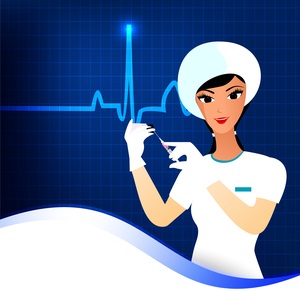 Becoming a registered nurse is a dream career for many. It's one of those occupations where you get an opportunity to provide care to people (or patients) and help them live a healthier life. One of the best parts about this healthcare job is that you get a lot of respect in the community as well. However, you can't become a registered nurse only by thinking about it.
You need to act!
You should gather all the essential information about this nursing career (the largest healthcare occupation) and start planning as quickly as possible.
According to the US Bureau of Labor Statistics, jobs for registered nurses will grow at a rate of 26% over the next 8-10 years.
Know the Duties
If you plan to become a registered nurse or RN, you should first of all know what you'll actually be doing. The main responsibility of these nurses is to provide care to patients of all age-groups. But a RN doesn't only work at hospitals. As a registered nurse, you can choose to work in healthcare facilities, nursing care centers, physician's offices, home healthcare agencies and outpatient treatment facilities among others.
Apart from looking after the patients, a registered nurse is also responsible for educating and providing emotional support to the families, friends and relatives of patients. In short, this is a healthcare occupation that allows you to make a great positive impact on people's lives.
Get the Required Education (Basic & Advanced)
The basic educational requirement for this nursing occupation is a high school diploma or GED. While completing your school studies, you should focus on key subjects like biology and chemistry.
But becoming a registered nurse requires advance-level education. To build a successful career in this occupation, you need to obtain an associate degree, a bachelor's degree or a master's degree in nursing from an accredited college or university. The higher educational qualifications you have, the better nursing career you'll be able to build.
Clear NCLEX-RN Exam
Aside from obtaining a college or university degree, it's also essential to acquire a license to start working as a registered nurse in any US state. To obtain this license, you'll need to clear a national level examination called NCLEX-RN. This licensing examination is held by the National Council of State Boards of Nursing.  Depending on the state where you live, you should make sure you know all the essential requirements as far as this exam is concerned.
Learn Key Skills
Career planning for becoming a RN should start very early. There are some skills that you should develop or grow as quickly as possible. Understanding and using patient documents is an important skill you need to learn. Apart from that, you should develop your oral communication and problem solving skills. Social perceptiveness, active listening, coordination and service orientation are other important skills that are required to make a successful career as a registered nurse.
More Tips
If you have already entered into a nursing degree program, it's also a good idea to expand your knowledge base about working in a hospital setting. There are plenty of volunteering opportunities that you can find at hospitals. Working as a volunteer at a hospital will help you take an in-depth look at the kind of work environment you'll be working in.
If you follow the above-mentioned steps carefully, you'll soon find yourself working as a registered nurse. No matter where you choose to work, always maintain a positive attitude and work with a strong passion. Hard work and passion will lead to a highly successful career.
Please feel free to leave a comment or share an opinion.
The following two tabs change content below.
Carl began his career as a recruiter in the year 2000. Since then, he has interviewed hundreds of job applicants, dealt with several hiring managers and helped a lot of people find better jobs. He's passionate about guiding people towards their best-suited careers.
Latest posts by Carl Mueller (see all)