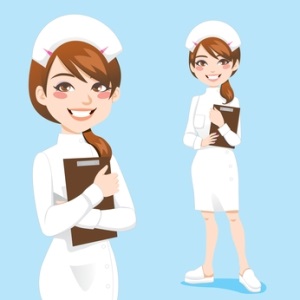 Jobs in the healthcare industry continue to grow faster than the average of other occupations despite a sluggish economy. If you have a strong passion for helping patients live a healthier life, healthcare is just the right area of work to be employed in. One of the most sought-after jobs in healthcare or medical industry is nursing. Even when you choose to become a nurse, there are several specializations and career alternatives to choose from.
There are more than 2.5 million nurses working in the healthcare industry already. Still, the industry needs more.
Whether it's a hospital, a clinic, a physician's office or a nursing home, nurses are in high demand.
Duties of a Nurse
If you already have an interest in becoming a nurse, you might have a general idea about what this occupation is all about. However, it's important to have a closer look at what a nurse's every day duties include.
Daily responsibilities of a nurse include –
Providing care to patients
Administering prescribed medications
Keeping patient records
Communicating with physicians or doctors
Drawing blood, placing IV lines and NG tubes
Educating patients on self-administering of medications, health, and wellness
Providing emotional support to the patient's relatives
Though a nurse has to perform all the duties mentioned above, their day-to-day responsibilities may also vary depending on their levels. There are several specialties and positions in the field of nursing. Advance level nurses may work on their own. They may prescribe medications for patients. They may also handle a patient's diagnostic process.
Specialties
As mentioned above, nurses may choose to specialize in a particular field of nursing. Let's have a quick look at some of the most well-known specialties nurses can choose from.
Ambulatory care nurse
Cardiac rehabilitation nurse
Orthopedic nurse
Oncology nurse
Psychiatric nurse
Rehabilitation nurse
Surgical nurse
Trauma nurse
Travel Nurse
Occupational health nurse
There are many more specialties. As you start pursuing this healthcare career, you'll gain more knowledge about the different specialties and career alternatives that the occupation of nursing offers.
Levels of Nurses
Apart from specialties, there are also different levels of nurses. If you are interested in a nursing career, you may want to become a –
Licensed Practical Nurse (LPN)
Licensed Vocational Nurse (LVN)
Registered Nurse (RN)
Clinical Nurse Specialist (CNS)
Nurse Practitioner (NP)
The job title that suits you best will depend on the kind of educational qualification and training program you have completed.
Education
You can become a nurse by completing a one-year nursing program offered by community colleges. This is the quickest route to step into nursing. With this one-year program, you'll be able to occupy entry level positions as an LPN or LVN. For becoming a RN, however, you'll need to obtain a diploma, an associate degree or a bachelor's degree in nursing. For licensed practical nurses and licensed vocational nurses, it's essential to clear the National Council Licensing Examination for Practical Nurses (NCLEX-PN) for obtaining license.
To fulfill the licensure requirements, RN or registered nurses, are required to go through the National Council Licensing Examination for Registered Nurses (NCLEX-RN).
It's advisable to go for a Bachelor's Degree in Nursing (BSN), which takes around fours for completion. Most of the Registered Nurses obtain this degree. Completing a bachelor's degree will ensure you build a successful career in nursing and earn a handsome salary.
Skills
Apart from fulfilling the educational requirements, you should also develop or grow the essential skills that are required for nursing jobs. To performyour job as a nurse with full efficiency, you should carry strong people skills, good communication, team-playing skills, adaptability, flexibility, determination and the ability to conduct research.
Do you want to become a nurse too? Please let me know your plans.
The following two tabs change content below.
Carl began his career as a recruiter in the year 2000. Since then, he has interviewed hundreds of job applicants, dealt with several hiring managers and helped a lot of people find better jobs. He's passionate about guiding people towards their best-suited careers.
Latest posts by Carl Mueller (see all)