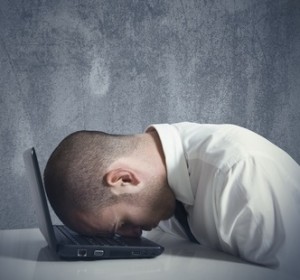 First of all, there's nothing like a perfect job. Second, it's extremely difficult to find a job of your interest quickly, as the level of competition in almost every industry is continuously on the rise. To beat out the competition, you need to pay careful attention to each of those steps that will lead you to a job you want. That's why it's quite easy to get frustrated in the process.
To land a job you like, you'll need to overcome several obstacles. When you make mistakes and get rejected, you'll feel very demotivated and depressed. You may even want to give up.
But you should never give up, because each failure takes you one step closer to your goal.
In fact, you should avoid frustration!
Here are a few important tips that you should follow so that you persist until you find a job you are looking for.
Go Social
It's the age of social media. Even when you are searching for jobs, you shouldn't ignore the potential of using social media channels like Facebook, Twitter, LinkedIn and Google Plus. A large number of jobs never appear on job boards and they are filled up as well. These jobs are occupied by way of references of professional network that jobseekers have.
If you are not on popular social media networks yet, it's about time you created your profiles and started to network with the right people.
Say 'No' to Generic Resumes
Avoid using the generic resume template that you'll easily find through a friend of yours or online research. Today's employers have become smart enough to quickly filter out job applicants that don't have something unique to bring to the table. If you are looking for a specific job and want to get it, you should conduct company research, know the job details clearly and then come up with a highly targeted resume to attract employers quickly.
Practice Interviewing
One of the biggest reasons for getting rejected after employers give you a call for an interview is that you have not practiced the common interviewing questions. Never think that you know it all. Your competition is most probably much better than you think you are. Therefore, it's always important to collect the list of commonly as well as less frequently asked questions and practice answering them with one of your close friends. Continue until your friend agrees that you have really convinced them for your employability.
Volunteer
While you are in the job search mode and nothing else to do, it's good to join a volunteering organization in your community. If you are smart enough, you should volunteer in a field or industry that's associated with your job of interest. By volunteering, you'll not only keep yourself busy and happy but will also build some influential contacts that will aid your job search.
Accept Rejections
No matter how hard you try, a few knock-downs will always be there when you start your job search. It happens to some of the best of job applicants or professionals. Even if an employer or a hiring manager rejects your application, you shouldn't lose your patience. Instead, you should try to find out those weak points that need improvement. Focus on the skills employers are looking for and develop them to achieve success in your job search.
Please feel free to leave a comment.
The following two tabs change content below.
Carl began his career as a recruiter in the year 2000. Since then, he has interviewed hundreds of job applicants, dealt with several hiring managers and helped a lot of people find better jobs. He's passionate about guiding people towards their best-suited careers.
Latest posts by Carl Mueller (see all)