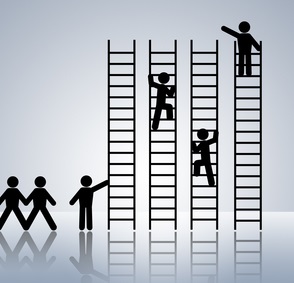 Getting promoted at work is a whole separate job in itself. There are plenty of people who have great talents and skills, yet promotion after promotion passes them by in the workplace. Actually, they don't know how to promote themselves in a job. They lack the art of self-promotion.
Not to worry, even introverts can successful promote themselves at work and grow their careers.
Why can't you?
While at work, you need to let others know about –
What you are working on
The success you are obtaining
The problems you have resolved
The projects you have accomplished
Promoting yourself at work is, therefore, all about keeping others in your company or organization abreast of your work. Hundreds of thousands of people lose their jobs in the wake of an economic downturn. Not each one of them lacks skills, knowledge and experience.
It's only that they were unable to do self-promotion.
In a sluggish economy, learning the art of self-promotion carries much more importance. With more and more practice, you can not only learn this art but can master it as well. Once you have learned this art, you'll be able to promote yourself without cheapening your personal brand.
Effective self-promotion is about highlighting your work or projects and attracting the attention of those who are responsible for your promotion in the workplace. When you start over-doing it, it becomes bragging which people don't like. So, you need to promote yourself without being tagged as a braggart.
Let's take an example.
Suppose you achieved success at talking to a prospective client after chasing him for six or eight months. Now this is something that your seniors or your boss must know about.
So, why not send your boss a quick note about it?
Something like this –
'Hey. There's great news. I thought you would like to know that I had the opportunity of talking to Mr. Thompson on phone just a minute ago. And I was able to connect with him after eight months of pursuing his secretary.' Likewise, you can highlight your other key talents to your senior manager or your boss so that they remember you when a promotion opportunity arises.
But you can also promote yourself by impressing others at work by doing some simple things or following some basic office etiquettes. Given below are a few things you can do to impress at work.
Arrive 10-15 minutes early at work.
Leave office 10-15 minutes late.
Always dress yourself in suitable business attire.
Take initiatives to speak up at meetings.
Assist your colleagues or co-workers.
Ask for your seniors' feedback on your work.
Abiding by the key etiquette of the workplace is an excellent idea to attract others' attention and do some self-promotion.
According to career experts, self-promotion is the burning need of the time. However, you should continue using the effective techniques that help you highlight your work, compel others to remember you and grab one promotion after another at work. It's vital for career success.
Please share your opinions or thoughts.
The following two tabs change content below.
Carl began his career as a recruiter in the year 2000. Since then, he has interviewed hundreds of job applicants, dealt with several hiring managers and helped a lot of people find better jobs. He's passionate about guiding people towards their best-suited careers.
Latest posts by Carl Mueller (see all)