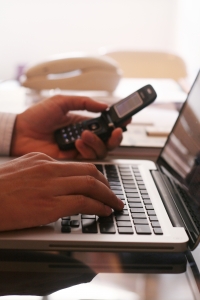 Many of us have always dreamed about working from a home office. The allure of handling responsibility while under indirect supervision is very appealing. However, you have to consider the pros and cons. In order to work from home, you need to be able to handle the day's responsibilities and produce results. Just be careful when you are searching for work from home positions, because often times they are not legitimate job postings. Always apply through a reputable company. There are thousands of work from home jobs and the number is constantly rising.
What are the best work from home jobs?
Virtual Assistant
Virtual Assistants report to a manager and are given different administrative tasks throughout the day when the workload gets overwhelming for those who are stationed at the office. It helps if you have experience as an administrative assistant or data entry worker when you attempt to land one of these positions. You might be told to answer calls or make reservations, or even serve as a personal assistant to a high ranking company executive. The possibilities are endless for virtual assistants, so you should consider this career if you want to work from home.
Freelance Writer
If you consider yourself an excellent writer and have some materials to back up your claims, then you should consider freelance work as a writer. You could write articles for news or media outlets or produce content for someone's blog. Quality writers are hard to find, so if you can produce original content on a daily basis you will become a sought after freelancer. Plus, it's always nice to work from any location. 
Web Developer
If you have experience building and designing websites, you can work from home as either a freelance web developer or provide your services through an organization on payroll. Web developers can do their job from the comfort of their own home, provided that they have the correct software and a home office setup. There is a high demand for quality web development. If you can produce websites with solid code and communicate well with your clients, a career as a work from home developer is right for you.
Teacher
Many teaching jobs have become work from home jobs over the past few years. Typically the online aspect of teaching is reserved for online tutoring, but if you possess good teaching skills and have experience working as a tutor, you can take your skills into the online market. In fact, if you have a good number of clients, you can run joint tutoring sessions and raise your hourly wage substantially.
Search Engine Optimization
Organic search results are incredibly valuable to online companies, because you don't incur advertising costs when your searches naturally rank higher on google searches. SEO workers can operate from a home office, as long as they are able to communicate with clients and provide visibility and reporting that records their results. There is no college major for SEO, and most professionals are self-taught. So, if you think you can improve the HTML code of websites and help them rank higher on google, ask about working from home on your next interview!
Work from home jobs are becoming increasingly popular in the United States for several reasons. Mainly, if you specialize in this type of work arrangement you don't require office space. You just need to prove that you are responsible and willing to provide results for your employer. If you are interviewing for a job and you think it can be done from home, just ask the interviewer. However, just be cautious when you are browsing jobs online. Many work from home positions are scams, so pick a reputable organization and contact human resources to ensure the legitimacy of the position. Follow these steps and you will be well on your way to working from home. 
The following two tabs change content below.
Matthew Welch
Jobdiagnosis blog author Matthew Welch is an SEO strategist and content marketer from Boston, MA. Read blog content relating to job search by Matthew Welch.
Latest posts by Matthew Welch (see all)