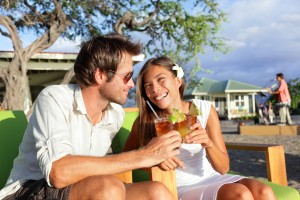 With over 8.5 million jobs listed at JobDiagonsis.com, there are some pretty interesting options. These listings span across multiple industries, and as a result they are incredibly diverse. This list will encompass the cream of the crop. They are careers that people dream about, and landing one might not be as farfetched as it might seem. They might not be the most popular careers, but you might be surprised at the results a search might turn up. It's amazing what surprises you might find when sorting through millions of data points. They are all real jobs, so take a look!
1.)    Hawaiian Beach Bartender
As soon as your shift is over, you exit the restaurant surrounded by paradise. Think great weather, beaches, and warm oceans. Typically most visitors will be tourists, which always translates to better tips in the hospitality industry. Most people who move to Hawaii never leave, but this is all dependent on finding the right job. Since it's such a touristy island, there will always be more and more job opportunities in the food service industry. Following this path might land you an excellent bartending job in an even more excellent location.
2.)    Data Hacker
For those with excellent knowledge of computer software, programming, and network security, there is an interesting yet challenging role out there for you. Companies that deal with large databases of secure information need to constantly test and refine their security measures in order to prevent a hacking attack. We've recently been seeing just how dangerous a hacking group can be with events like Heartbleed which comprised retail credit card data. Almost all personal information is now on the internet, and it needs to be secure. Enter the data hacker. They are hired by companies to test and compromise their security measures. It might be time to take your rouge computer hacking skills to the workplace. The better you are at hacking, the more money you will ultimately make.
3.)    Commercial Diver
Being a paid diver can be an excellent career for those with a passion for the hobby. This job made the list for several reasons, but the two major ones are the six-figure salary and the variation in job responsibilities. Divers can be hired for many reasons, including marine research, boating salvage, criminal investigation, and underwater construction. However, it definitely comes with some risk, considering most commercial divers experience some type of work-related injury over the duration of their career. However, getting paid to do what you love is the pinnacle of success, and commercial divers happen to be near the top of this pack.
4.)    Executive Personal Assistant
Be careful with "personal assistant" jobs. There are many scams designed to harvest personal data and are not legitimate job postings. However, if you sort through these listings there are some excellent personal assistant jobs currently available. The responsibilities will differ from role to role, but they typically focus on running errands, administrative work, driving, child care, scheduling, and other related tasks. If you find a personal assistant gig for the right individual, it could turn into a high-paying role. Unless you have connections, these roles can be harder to locate, but taking a lower-level assistant job and working your way up is usually a good option. Word of mouth can spread like wildfire, and giving 100% is essentially free marketing for your brand.
The following two tabs change content below.
Matthew Welch
Jobdiagnosis blog author Matthew Welch is an SEO strategist and content marketer from Boston, MA. Read blog content relating to job search by Matthew Welch.
Latest posts by Matthew Welch (see all)