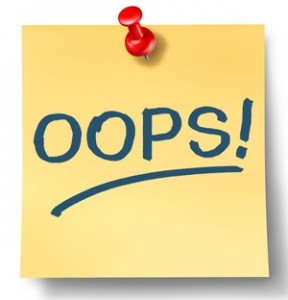 To continuously grow in a chosen career, you must focus on doing the right things. While trying to build a career, however, it's quite easy to make mistakes. Though making mistakes help you learn new things, you can't keep on making mistakes over and over again. In fact, you should be fully aware of those mistakes that can ruin your career completely so you can avoid them quickly.
Here are five mistakes that can easily ruin your career. If you are planning to achieve continued career success, you should be careful enough to avoid these mistakes at all cost.
#1. Not Knowing Your Strengths (and Weaknesses)
Each one of us has some strong as well as weak points. In order to build a career where you can continue growing (while being happy), you should be fully aware of your talents and skills. You should know about things or activities that you really enjoy doing as well as those that irritate you.
A good idea, in this regard, is to take a career test. On the web, you'll find a number of service providers that offer career assessment tests which enable you to know what's best for you.
Depending on your specific requirements, you can go either for paid career tests or free tests. These tests will present you with a set of specially designed questions. Once you complete the questionnaire and submit it with the service provider, you will be provided with the result. The results will also include some of the most suited career paths you can pursue.
#2. Applying for Any Job
Many candidates, even when they know what's best for them, will make a potential mistake of applying for just any job they come across. Remember career success is not just about earning money. A successful career is actually doing something that you have a great passion while fulfilling your financial needs.
Therefore, always remember not to jump for just any job that you come across. Make it a point to go through the job requirements, roles and responsibilities in detail before making a decision.
Even if you manage to get a job, that doesn't suit you best, you would find yourself in trouble later on.
#3. Ignoring Etiquette
Whether it's an interview or the workplace, there are some essential etiquette that you need to abide by. You may have lots of talents and skills, but all of this won't help you get ahead with your career if you are following the manners that make you a true professional.
For an interview, for example, you should always arrive a few minutes early at the venue. You should be dressed professionally. You should also remember to behave nicely with everyone you come across at the venue. After the interview ends and you get back home, you should not forget a thank-you note to the interviewer so you leave a good impression.
Likewise, there are proper etiquettes for every place or occasion in the professional world. You should know and follow them.
#4. Being a Whiner
If there's one thing that employers or senior managers hate the most is working with someone who's a whiner. If you are guilty of this, you should stop doing it right away. Remember nobody likes to be with complainers. Even if you have something really serious to complain about, you should do it appropriately. In addition, also try to come up with remedies that could help improve the situation you are going to complain about.
#5. Not Learning or Improving Yourself
Self-improvement should be like the show that must go on. No matter which area of work or industry you work in, you should always look for opportunities to improve yourself. You should continuously strive to add on to your skill sets, acquire more knowledge and improve.
Keeping your career on the right track and growing is a big challenge that you face in today's fiercely competitive times. Make sure you avoid making all the mistakes mentioned above, so you can build a successful career.
What other mistakes do you think people can make to ruin or destroy their careers? Please leave a comment.
The following two tabs change content below.
Bruce is a LinkedIn expert who helps individuals, corporates and entrepreneurs unlock the true potential of this professional social network. You can
visit his blog
for regular LinkedIn news, updates and tips.
Latest posts by Bruce Mubayiwa (see all)