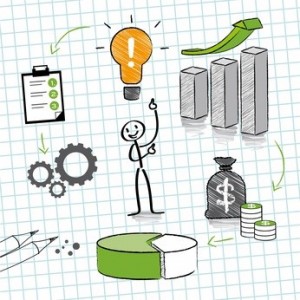 There are very few people who enjoy what they do. Most of the people step into wrong careers and are unable to achieve their professional goals because they lack a career plan. When you have a vision for your career, it becomes easy to navigate the paths of the real world. Equipped with a career action plan, you know where you want to reach as well as how you'll get there.
There are different reasons for not having a career plan. Many fail because they lacked guidance while they were in school or from their parents. Others find the whole idea of career planning daunting. How can you ever expect to reach your destination if you don't know where you are actually headed or going?
If you want to fulfill your professional goals, achieve early career success and live the life of your dreams, you should never ignore the potential of creating a career action plan. A career vision brings you many more benefits than you can actually imagine.
Here are the key benefits of having a career vision–
Make Well-Informed Decisions
The most important thing that a career plan does for you is that it allows you to make the right decisions at the right time. When you are fully aware of your goals and objectives, it will become easier to make best decisions in your professional career. You can't leave your career to chance.
Appropriate Networking
To achieve success with your career, it's extremely important to connect with people who can help you reach your goals. Unless you have created an action plan for your career, you will never know who you should actually network with. You could easily waste plenty of your valuable time, if you connect with wrong type of people or professionals.
Have a Sense of Control
When you plan to reach a specific destination, you should have complete control in your hands as well, as far as moving forward is concerned. With a well-planned vision for your career, you'll have a stronger sense of control. It will, therefore, prevent you from getting lost or frustrated.
Avoid Making Mistakes
There are a lot of people who make potential mistakes and harm their professional career in several ways. Many times, mistakes can be so huge that it's almost impossible to get back on track easily. But those who have a career plan can easily avoid mistakes.
Balance Private and Professional Life
Every industry has become competitive. Employees have to work really hard to keep their jobs and continue growing. Many times, the stress level in jobs is so high that it impacts one's personal life. One of the most important benefits of creating a career vision and sticking to it is that it allows you to strike the right balance between your private and personal life.
Do you have a career plan or vision? If not, it's about time you created one right away so you can achieve early career success.
The following two tabs change content below.
Carl began his career as a recruiter in the year 2000. Since then, he has interviewed hundreds of job applicants, dealt with several hiring managers and helped a lot of people find better jobs. He's passionate about guiding people towards their best-suited careers.
Latest posts by Carl Mueller (see all)