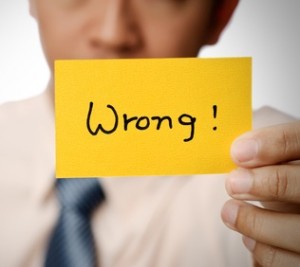 One of the biggest mistakes you can ever make with you is stepping into a career that's not right for you. Despite all the literature, both online and offline, on how to pick the right career path, people still make mistakes. In fact, an average person may change their career 3-4 times in a year. While selecting a professional career, therefore, you should always be fully aware of your strengths, aptitude, skills and weaknesses.
Do you think you are in a wrong career?
If you're confused, here are four key signs to find out whether you have chosen a wrong career path.
#1.You Don't Enjoy Your Work
The best idea to do a job is to enjoy doing it. But you can never enjoy everything that you do because different people have different preferences. When it comes to your career, you should always make sure it's completely in tune with your skills, aptitude and talents. If you force yourself into a particular career, you'll certainly end up being irritated and frustrated.
In order to figure out whether you have picked a wrong career, you should first assess whether you enjoy what you are doing.
If you find out that the work you do doesn't bring you any joy and you have to drag yourself to work every day, you might be in trouble. Not enjoying your work is a tell-tale sign of a wrong career.
#2.You are Unable to Perform
Career growth is always dependent on how one performs at work. If you want to get promoted and move up to senior level positions, you should be able to deliver excellent performance. You should be able to outshine others. If you are unable to perform in a job or career, you are not helping yourself a bit. Constant poor performance is also one of key signs of the fact that you have stepped into a career which isn't a good match for you.
#3.You Have Thoughts of Quitting
Deciding to quit a job is really a tough decision. Quitting work affects our life in so many ways. In fact, the entire phase of leaving a job and then finding a new one is quite stressful. Still, there are times when you are so unhappy in a particular career that quitting it sounds like getting freedom. It happens only because you entered into a wrong career.
If you are in a job and constantly have the thought of quitting, you should pay heed and make a decision that's best for you.
#4.Stress and Anxiety
A little stress is a part of almost every job or career. But stress that continues to increase, goes out of hand and starts to deteriorate your health is a serious issue to be dealt with quickly. Stress and anxiety are quite common for people who have landed themselves into wrong careers.
At first, you should apply various techniques to relieve your work stress and bring it under control. If nothing works, it may be due to the wrong career that keeps you depressed, frustrated and anxious.
Do you think you have chosen the right career and are enjoying what you do? Please feel free to leave a comment.
The following two tabs change content below.
Carl began his career as a recruiter in the year 2000. Since then, he has interviewed hundreds of job applicants, dealt with several hiring managers and helped a lot of people find better jobs. He's passionate about guiding people towards their best-suited careers.
Latest posts by Carl Mueller (see all)