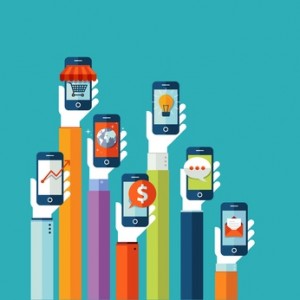 Technology has penetrated into our lifestyle, in so many ways. While trends will continue to come and go, it's crucial for you to watch out for them to make things easier, get more done in less time and save plenty of valuable time. The job search industry too uses various types of technologies that the modern-day jobseeker should be aware of. One of the fastest emerging trends in this industry is the use of mobile or tablet apps.
Are you aware of it already?
If not, let me tell you that the year 2014 is witnessing the use of mobile apps to apply for jobs as the next big thing. The trend is already hot and is rapidly growing. In fact, job search mobile apps have almost gone viral.
According to a recent survey (source: an infographic by Super Monitoring), around 90% of the world's population owns a mobile today while over 50% of people have a smartphone. And don't be surprised to hear that 80% of a mobile device user's time is spent inside different types of mobile apps. Like there are apps for other good things, there are plenty of apps even for searching and applying for jobs via mobile devices.
Since the competition for finding jobs is getting only tougher with each passing day, it's important for you, as a smart jobseeker, to keep track of the most valuable apps and use them to make your job hunting easier and quicker. You don't need to sit at the desktop computer every time you want to search for a desired job position or apply for a potential job opportunity. Equipped with a mobile device (Android, Windows, BlackBerry, iPhone, iPad), you can continue with your job hunt even while on the go.
Thankfully, there are a good number of job application apps out there. But you should choose the right ones.
Popular job websites like Monster and Indeed have their own mobile apps that you can use on different types of mobile devices. Likewise, you have apps such as LinkUp  and Gigwalk among others. These are only a couple of examples to introduce you to the sea of job search apps.
Since companies have already realized the benefits that mobile apps bring to jobseekers, more and more new apps are appearing on the scene regularly. However, you should always choose those apps that offer more flexibility and suit your requirements the best. Use of apps is always advised because it increases your productivity as a jobseeker and gives you an extra edge.
Depending on the type of mobile device you own, you should start looking for useful job application apps so that you can easily take your job search wherever you go.
Are you already using any job search mobile apps? Please feel free to talk about them in comments.
The following two tabs change content below.
Carl began his career as a recruiter in the year 2000. Since then, he has interviewed hundreds of job applicants, dealt with several hiring managers and helped a lot of people find better jobs. He's passionate about guiding people towards their best-suited careers.
Latest posts by Carl Mueller (see all)