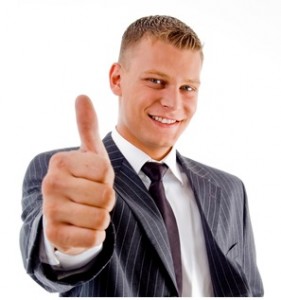 Hiring skilled sales professionals is always a better investment for companies. As the economy struggles to recover, a large number of businesses plan to grow their sales-force. According to the Bureau of Labor Statistics (BLS), the employment for sales representative jobs in wholesale and manufacturing will grow as fast as average over the next 5-10 years.
However, a career in sales is not suited for everyone. Salespeople have some key traits which help them excel in their jobs. That's why their income potential is actually dependent on their ability to sell.
Given below are five traits that you'll find in every successful sales professional. Check out whether you have these qualities.
#1.Passion for Selling
The main role of sales professionals is to sell, and sell more. If you want to make a successful career in sales, you should always have a knack for selling. One of the most important traits or characteristics of a salesperson is that they have a strong passion for selling. They don't just adore the product they sell, but they also love the target audience which they sell to.
If you are not passionate about a product yourself, how can you expect others to buy it from you?
#2.Independence
Sales people are not actually dependent on anyone. You can never become a great sales professional if you don't have the ability to work independently. While working as a salesperson, you should always be ready to take initiatives on your own to move forward and obtain success.
People who can't work independently should not step into a sales career. This profession is not for the faint-hearted.
#3.Understanding of the Sales Process
You can't expect to become a great sales professional unless you clearly understand each of the step of the sales process. Though having good knowledge about a product you are selling is essential, it's just the beginning of the sales process. Successful sales professionals understand each and every stage of the sales process so they are able to sell more.
The sales process consists of –
Prospecting
Planning the Sale
Approaching
Need Assessment
Presentation
Closing
Following Up
If you plan to become an effective salesperson, you should know all the essential details that each of the above mentioned stages include. When you have the entire process clear in your mind, you are able to develop a powerful strategy to close more and more sales.
#4.Ability to Adapt Quickly
One of the most useful traits that all successful salespeople have in common is that have an excellent ability to adapt.Many times, things don't work. In such a situation, great salespeople don't give up. In fact, they quickly adapt to the changes and deliver results to surprise everyone. In short, a great sales professional understands that change is sometimes inevitable.
#5. Positivity
If there's one characteristic that quickly sets salespersons apart from other professionals is their positive attitude. Rejections are a part of the selling process. No matter what happens, great sales guys are always oozing with positive attitude. They look at defeats as an opportunity to tweak their selling strategy further and improve their chances of success.
To a salesperson, the glass is never half empty. Their positive mindset always sees a half-empty glass as half-full.
The following two tabs change content below.
Carl began his career as a recruiter in the year 2000. Since then, he has interviewed hundreds of job applicants, dealt with several hiring managers and helped a lot of people find better jobs. He's passionate about guiding people towards their best-suited careers.
Latest posts by Carl Mueller (see all)