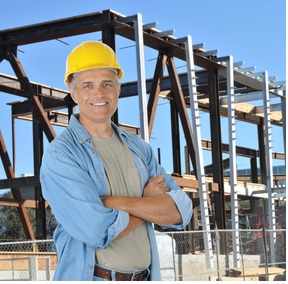 The construction industry offers a wide range of employment opportunities, for the less as well as highly qualified. Even in the face of a tough economy, there are several jobs in the construction field with rapid growth. Whether you take salary, job prospects, level of stress or career growth opportunities into consideration, there are several jobs in this industry for you to occupy.
Given below are five jobs that are among the highest paid in the building and construction industry.
#1. Senior Project Manager
It's the project manager that's ultimately accountable for the completion of a construction project. Right from the beginning till the end, everything in the project is closely supervised by the project manager. The most important roles of these professionals are to develop the entire plan for the appropriate use of resources, recruiting with subcontractors to ensure the success of a construction project. That's why the job position of a project manager is one of the highest paid in the construction industry.
The average annual salary of a senior project manager is around $108,400. There are opportunities to earn even more.
#2. Construction Manager
If you are planning to occupy a high-salaried job in the construction industry, you can also choose to work as a construction manager. Though the two job titles (senior project manager and construction manager) may appear to be similar, they are actually different. A construction manager is actually the one that deals with a wide range of construction projects.
Whether it's a commercial product, residential, or industrial project, the construction manager has the responsibility for hiring subcontractors, planning the everyday work schedule and completing the work within the provided budget and time-frame. On an average, a construction manager earns an annual salary of around $100,400.
#3. Site Supervisor
The job of a construction or site supervisor is also a highly paid one. As the job title suggests, they are responsible for supervising the day-to-day work at the site of construction. Maintaining quality and safety of work at the site is the main role of the construction manager. In simple words, a construction supervisor is actually a low-level construction manager. Though the average annual salary of these professionals is around $65,400, they can earn in the excess of $100,000 with additional employment benefits.
#4. Architect
One of the most sought-after jobs in the construction industry is that of an architect. While working as an architect, you are required to create the design for new or existing buildings. One of the biggest challenges for an architect is to ensure that their designs are completely in tune with a client's requirements. An experienced architect needs to come up with building designs that are not only functional and economical, but environmentally safe as well.
The average annual salary of an architect is around $78, 500, but they can earn up to $110,200 or more.
#5. Civil Engineer
The job of a civil engineer is also among those construction jobs that pay high salaries. These professionals are responsible for project planning by examining survey reports, maps, drawings etc. Civil engineers work closely with clients and architects to discuss the vital details of a project. The median salary is $82,500 per year. Many civil engineers earn as much as $120,500 annually.
Do you like construction industry jobs? If yes, please feel free to talk about a couple of benefits.
The following two tabs change content below.
Carl began his career as a recruiter in the year 2000. Since then, he has interviewed hundreds of job applicants, dealt with several hiring managers and helped a lot of people find better jobs. He's passionate about guiding people towards their best-suited careers.
Latest posts by Carl Mueller (see all)