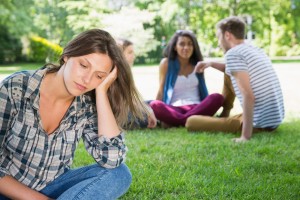 Different people thrive with different work styles.  Some crave a lot of person-to-person interaction and respond well to close direction from a superior or peer in the workplace.  But others possess strong self-discipline and when left to their own devices, can accomplish way more than any other person could have directed them to do or expected from them.  Give this type of person a pile of work, and they may have a problem even knowing when to stop.  If you fit this description, you are most likely perfectly content in a work environment that involves a good amount of isolation, and little need for micromanaging or interaction with authority.
Below are five jobs that are ideal for those who work well alone:
1) Writer
In order to truly get lost in the creative process that is required to produce quality writing, a person usually needs to be alone and without distraction.  According to Zenhabits.net, "Creativity flourishes in solitude.  With quiet, you can hear your thoughts, you can reach deep within yourself, you can focus."  There is no really specific direction that can be given when it comes to completing written work, since it is different for everyone and depends on the subject and length of what you are writing.  Exactly how much freedom you are given in the content you write depends on whether you are working for yourself or someone else.  But even under the direction of someone else, you are likely to be given only general guidelines, and the rest needs to come from the depths of your imagination.
2) Truck Driver
Nothing can help you get to know yourself more than a long trip down the lonesome highway.  And if you choose a career as a truck driver, you will have the opportunity to take plenty of those.  Aside from routing directions and possible check-ins with superiors and peers in the industry, little micromanagement is required to perform this job, and periods of solitude are plentiful.  The type of person that opts for this career path should be attentive as well as comfortable with themselves and their own thoughts.
3) Chef/Cook
The process of putting together an appetizing meal can only involve so many people.  Once a recipe and possibly some general instruction is given, skilled chefs should be left to their own devices, and often times putting together a gourmet spread can require a good chunk of time alone.  Also, many chefs are able to see ways of improving recipes or flavor while they are making the meal, and this is all part of the creative process that often thrives in solitude.
4) Painter
Whether you are doing the interior or exterior of buildings and houses, painting is a repetitive process that can be almost meditative, especially when the color or pattern doesn't change for a period of time.  One can earn respectable money in hours, days or weeks of solitude while painting.  Once the color or pattern has been decided and the estimates are made, not much interruption or thinking is required to take place; making this a great job to take on if you are looking to clear your mind.
 5) Computer Programmer
Computer programming involves writing codes for software programs, and requires the use of scripting languages such as HTML, CSS and JavaScript.  While the actual training to learn these languages and develop the skill of programming may involve some person-to-person interaction, once you are familiar with the languages, a lot of time doing your job will be spent in solitude.  Many of the computer programming languages are universal and repetitive, so the more you get in the habit of using them, the less instruction you will need from others.
The following two tabs change content below.
Jessica Cody
Jessica Cody, a native of Fairfield County, Connecticut, has a background in online marketing and public relations. She is a graduate of the University of Connecticut, where she studied Journalism and Political Science. She is also an avid runner with a passion for the outdoors.
Latest posts by Jessica Cody (see all)