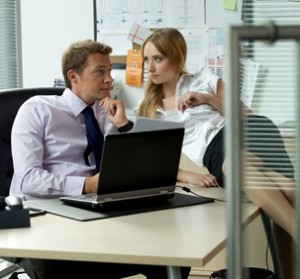 Special friend in the workplace or work spouse – these terms may sound quite interesting or exciting! But they are not as good as they sound. Many people think that stepping into a relationship at the workplace is not a bad idea. On the other hand, this is also true that many people have affairs at work.
But, as far as you are concerned, you should always avoid an office affair.
I'll tell you why.
Workplace relationships are famously known to destroy careers for a lot of people. While it has been recorded that some workplace relationships have led to marriage, according to a recent survey, even marriages that take birth in the workplace or office don't last too long. If you conduct some research on your own, via your friends and co-workers, you'll know more about the fate of office affairs or relationships.
As a matter of fact, there's simply no point in mixing professional and personal relations together. By calling your office life just professional, you'll end up having a good personal life as well.
Of course, when you are having an affair or in love, meetings become plenty of fun. You feel like being on cloud nine at work. Lunch time and coffee breaks work like heavy dose of antibiotics. Everything seems to be so good, interesting and full of fun. But you need to stop!
Before you even decide to step into an affair at work, you should think about the kind of ending it may lead to. In case the relationship doesn't work, what will your life be like? Could you bear it all?
One of the worst impacts of an office affair is that it suddenly changes all your previous chemistry with co-workers. As soon as you fall in love with someone, your co-workers look at your differently. They think you should be given some private space with your special someone. They also start to exclude you from some specific kind of conversations.
As soon as the story of your love affair becomes evident to your seniors (and you can't conceal however hard you may try), it starts to take its toll on your on-the-job promotions, salary hikes, and career growth. Depending on the level of your job position or responsibilities, an office affair may lead to even worse situations and impact your otherwise growing career really drastically.
So, are you ready to avoid having an affair in the workplace? If yes, here are some important tips for you to use.
Never Flirt –
Even if you are doing it as a joke or in jest, you should stop yourself and remain reserved.
Don't Share Personal Details –
Many times, an office affair begins with sharing your personal details with someone. If you want to play it safe, keep your personal matters outside of office at all cost.
No Movies or Games without a Third Person –
If one of your colleagues from the opposite sex offers you to go to a movie or watch a game together, make sure other people join as well.
If you were planning to find your soul-mate in the workplace, throw that idea out of your head right away. Keep your career goals as your only workplace objective.
The following two tabs change content below.
Carl began his career as a recruiter in the year 2000. Since then, he has interviewed hundreds of job applicants, dealt with several hiring managers and helped a lot of people find better jobs. He's passionate about guiding people towards their best-suited careers.
Latest posts by Carl Mueller (see all)