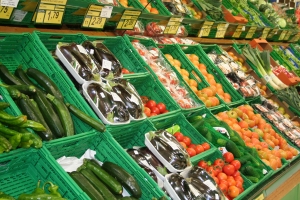 Working in retail is something millions of Americans do on a daily basis. There are plenty of jobs available in this industry, although when you are starting out it's usually only part time hours. However, there is definitely room for advancement. Retail work can happen at all hours of the day, and sometimes you need to be flexible with scheduling if you'd like to advance to your ideal career. Some retail employees have even been promoted past store level work, and gone on to pursue some pretty lucrative career in upper management. With that being said, we have compiled a list of the best retail jobs of 2014. So, if you currently work in this industry, stick with it and try to direct yourself into one of these careers, because it might be one of the best decisions you've ever made.
Finding the potential in retail work
1.)    Whole Foods Department Manager
Whole foods is one of the best retail organizations, because they are about their employees and pay incredibly well. In order to become a department manager, you're going to need some experience as an associate, so just try to get your food in the door and work for your favorite department. There are several, including produce, whole body, seafood, etc. The average salary for a department  manager at Whole Foods is over 50,000 per year, so you should definitely try pursuing one of these careers if you are considering working in retail for the long term.
2.)    Trader Joe's Crew Member
This retail organization is a great place to work because they pay higher than average for entry level grocery workers and employees report an excellent work life balance. The customer / employee relationship is usually very strong, and there is a lot of room for advancement. Regular store associates can make up to $15/hr., which is excellent for a job that requires no educational background. Just make sure you are ready to handle customer service inquiries and wear a hawaian shirt to work everyday!
3.)    Bloomingdales Sales Associate
Most sales associates will work part time seasonal hours, but the average pay is excellent at $13.50/hr. Also, you get a substantial discount to use at the store, and at Macy's as well since there is a partnership between the two organizations. Employees who work at Bloomingdales are usually very happy, and if you can start working at one of the bigger locations, such as NYC, then you can make even more money. However, know that you'll be required to work multiple hours around the holiday season.
4.)    Costco Cashier
Cashiering is a very simple job where you get to count money, give correct change, and handle customer requests throughout the day. Costco happens to pay their cashiers a very high rate, which averages around 11.50 per hour. This is a great wage for this type of work. Also, you can take advantage of all the wholesale deals that Costco has to offer.
5.)    Sephora Associate
Typically when people work at Sephora they have a personal interest in the products they are selling. They are one of America's leaders in make-up sales, and each location stands as an excellent place to work. Although this job doesn't pay as well at just under $10 per hour, if you want to become a manager doing something you love then you should keep on advancing. If you stay long enough you could become a store manager or assistant store manager, and they can earn a lot of money.
Working in retail has its ups and downs, but if you are willing to work hard your success is almost guaranteed. It is the complacent workers who never get the promotions they want, so get on your managers case about when the next promotion is and align yourself for a successful career. It is what you make of it, so a little hard work can definitely go a long way. Once you land that managerial role, you can also bounce around to other retail locations, which gives you flexibility and potential to earn more income. 
The following two tabs change content below.
Matthew Welch
Jobdiagnosis blog author Matthew Welch is an SEO strategist and content marketer from Boston, MA. Read blog content relating to job search by Matthew Welch.
Latest posts by Matthew Welch (see all)