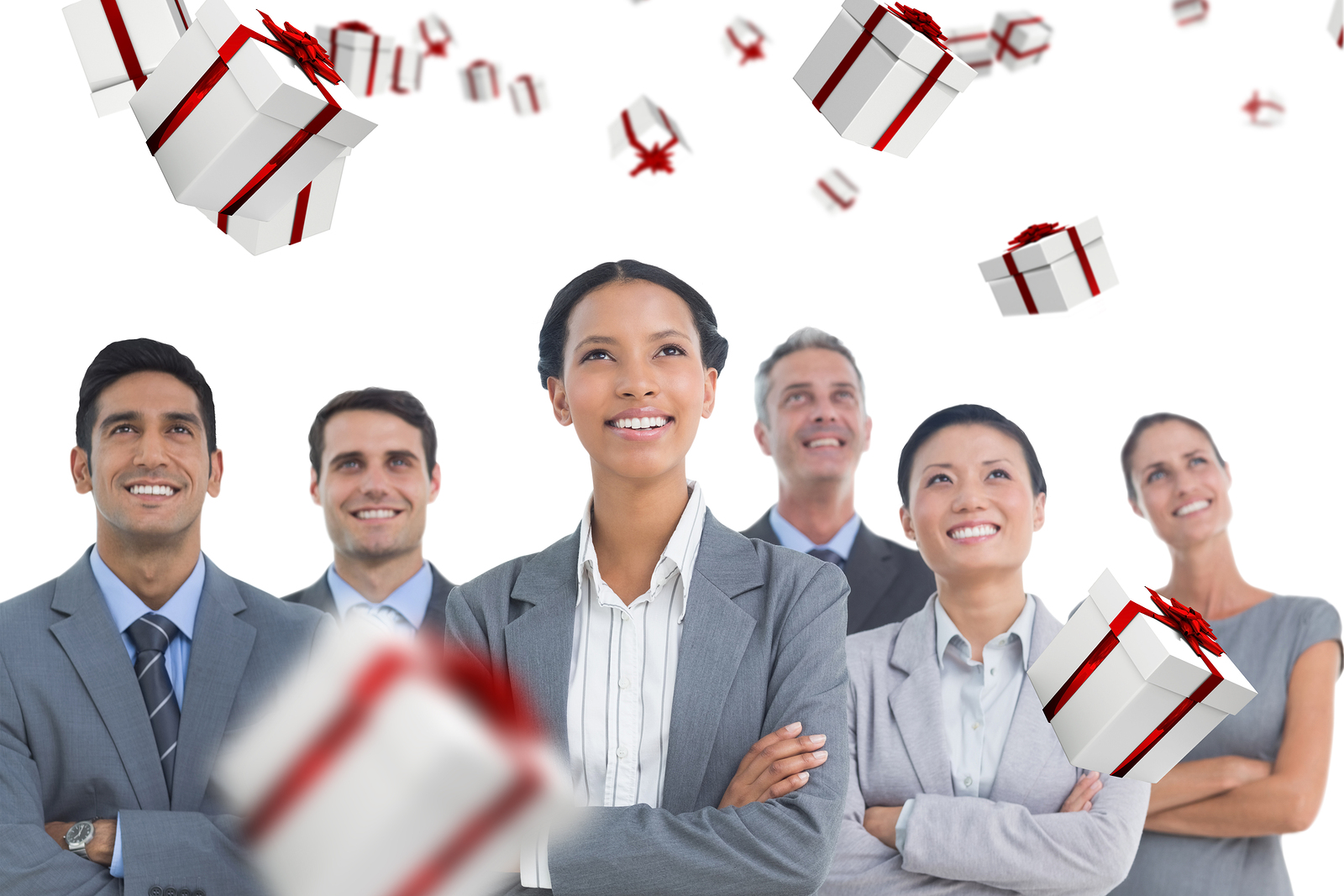 As the holidays approach at warp speed, many are sent into a frenzy over those last minute gifts and plans.  No matter how strategically we plan, there never seems to be enough hours in the day or days in the week to get everything done.  It often feels like you are hit like a ton of bricks with a list of vital people in your life that you simply must recognize at this special time of year.  One segment of those people is likely to be co-workers and supervisors. You want to acknowledge how much they have contributed to your life in the best way without coming across as tacky, which can be a challenge.  Here are some simple, yet useful, gift ideas that are perfect for coworkers:
1.  Cookies
You can't go wrong with homemade goodies, because they are thoughtful yet inexpensive, and will please just about anybody.  Baking can be time consuming however, so if you cannot devote an entire afternoon to such a project, check out websites such as Cheryls.com and MrsFields.com which have some of the best last-minute holiday deals.
2.  Food Baskets
Not only are these gifts delicious, they are attractive as well.  The assortment of treats is likely to satisfy a range of tastes, and you can purchase them for individual coworkers, or for a group of people since these baskets are great to have in the workplace.  Popular companies to purchase these online include HarryandDavid.com and 1800Baskets.com.
3.  Holiday Candy Boxes
If you are tight on money as well as time, this gift is your best bet.  Find a gift box decorated with a holiday theme, and fill it with candy.  The average cost per one of these gifts should only be around five dollars.
4.  Coffee and Tea
This is an everyday necessity for many people that will not expire or go bad. Besides buying the coffee or tea itself, you also have the option of buying a gift card to Dunkin Donuts or Starbucks, as well as coffee and tea accessories such as decorative mugs or coasters.
5.  Herbs and Spices
Again this is a gift that is not perishable, and will last for years if not decades.  They also offer numerous health benefits, and come in handy particularly around the holidays when people are doing a lot of cooking.  Some of the best priced herbs and spices can be found online at Savoryspiceshop.com and AmericanSpice.com.
6.  Office Desk Accessories
Over time you get to know how your co-workers operate and the little things that would make their lives so much easier.  Examples of these items include mousepads, keyboard cleaners, a new lunchbag (for the employee that always brings lunch) or a better set of noise-cancelling headphones (for the music lover).  Items such as these are practical and therefore greatly appreciated.  One of the best websites offering creative office accessories is UncommonGoods.com, and you can find humorous office supplies at Catchingfireflies.com.
7.  Travel Accessories
These gifts are invaluable to coworkers that commute, trekking to work in the heat, rain, snow, and ice.  While items such as briefcases or backpacks can be pricey, other essentials such as umbrellas, ice scrapers and water bottles are often forgotten yet so useful.  Also, iPod accessories come in handy these days to many commuters.  For frequent fliers, trips can be made a little more comfortable with small items such as travel pillows, book lights and toothbrush covers.  Stores that many of these gifts can be found at, as well as all kinds of other inexpensive gifts for coworkers , include Bed, Bath and Beyond and Marshalls.
8.  Event tickets
The hard-working employee deserves something to look forward to.  Depending on what your price limit is, look into purchasing tickets to an upcoming event that may peak that particular co-worker's interests.  Movies, sports games and concerts are attractions that many people find appealing.  If possible, give them more than one ticket so they can bring a friend or loved one along.
Remember, it's not as much the gift that is significant, but rather the thought behind it.  Just the fact that you are thinking about the people you work with at this time of year says something about you.  So keep it simple, and give yourself a break.
Below are some popular searches for seasonal customer support jobs in:
The following two tabs change content below.
Jessica Cody
Jessica Cody, a native of Fairfield County, Connecticut, has a background in online marketing and public relations. She is a graduate of the University of Connecticut, where she studied Journalism and Political Science. She is also an avid runner with a passion for the outdoors.
Latest posts by Jessica Cody (see all)