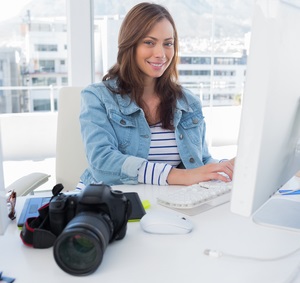 There are several occupations that provide people with an opportunity to let their creative juices flowing. One of the best, as far as I think, is professional photography. It's not just a lucrative career option, but it's also one of those fields where you get a chance to help people see something from a different,and unique angle. As they say, a picture is worth a thousand words, photographs leave a long lasting impression if they are really unique.
Have you ever wanted to take your passion of taking snapshots to a level where it becomes professional photography, so you could build a career out of it and make some good money as well?
Definitely, the art of photography has changed a lot over the last few years, with so many tools and technologies arriving on the scene. Modern photography is a lot more than just composing and framing a shot. If you have the passion and right combination of skills, you could easily create images that would be worth thousands of dollars or even millions.
Everything depends on whether you're really serious about a photography career and are ready to showcase your unique talent to the world.
You'll easily find a lot of photographers around you, in your city or town, state or country. It's quite easy to jump into this occupation for its numerous career benefits. To really turn the passion of photography into a full-fledged professional career, however, one thing that makes all the difference is how creative you are or what type of creative skills you've developed. Many people would ask whether it's also possible to 'learn' creative photography. A straightforward answer to this question is YES. Creative photography is an art of seeing things from an angle normal people wouldn't.
And you can learn to be creative too.
One of the most important tips to learn professional creative photography is to not aim for the better, but for DIFFERENT. In fact, trying to do something in a better way might require more effort or work. But being different is all about how creative you're able to think. If you develop the ability of thinking in new ways, you'll be on your way to setting benchmarks for others to follow. Moreover, being different makes it easy for you to stand out quickly.
Many times, professional photographers will take simple photos, and then turn it into something brilliant by applying their editing skills. That's exactly where your knowledge of the various photography editing tool comes into play. Apart from learning the basics of photography and how to use the equipment, you should also learn how to use modern-day photo editors.
If you plan to become a professional photographer, you should also have the courage to make lots of mistakes while learning from them. With each mistake that you make, you should learn a lesson and use that to improve your next photography experience. So, step up, get out there and start doing things. Make mistakes and learn quickly.
It's always advisable to learn the tips and tricks of the trade from some of the most popular or distinguished photographers out there. However, you should never try to copy them. Understand what their approach is, and find out how you could do it differently. Develop your own unique approach. That's the formula to achieve success in this profession quickly.
In any case, don't forget to grow your marketing and people skills, as these are essential to carve your own niche in this field and stay in business for a long time to come. If you're ready, you should get started right away, understand the basics, learn from others and deliver something unique.
Please feel free to leave a comment.
The following two tabs change content below.
Peter is a Senior Managing Consultant at Wenulima Pty, a broad-based consultancy company which specializes in social media, content marketing, hospitality, languages and business management. He's well known as a corporate and personal social media branding strategist. He regularly coaches individuals in key areas like leadership and management.
Latest posts by Peter P. Kadzutu (see all)