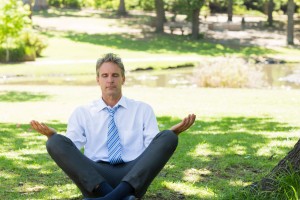 Being present for whatever task you are facing can be a challenge for many.  Life can throw many curveballs our way at any given time, and in most cases we have no control over them.  As a result, it is easy to get distracted and detached from what is going on because we are caught up in what happened yesterday, or what is happening later today.  This, however, serves no purpose, since not only is it a waste of time, it will inhibit our performance at what we are trying to accomplish in the present moment.  On top of it all, this way of thinking is sure to create unnecessary stress, which has many negative effects on our bodies and our lives.
The ability to be in the moment is important wherever you are, and particularly on the job.  Meditation and mindfulness practices are very beneficial to helping us achieve a calmer state of being, while remaining focused, fully engaged and able to acquire the resources necessary to accomplish the task at hand.  Most Americans don't like wasting time, and can tend to be resistant to setting aside a few moments in the day to be quiet, do nothing and meditate.  But what many do not realize is that taking these few moments to meditate can help you be more productive, happier and less stressed during the rest of your day.
Benefits of Meditation
Below are some of the benefits you are likely to gain as a result of practicing mindfulness in the workplace:
Less mistakes made as a result of being distracted
Better, more genuine relationships with clients and coworkers, since you will be more engaged and fully present to communicate with them
Ability to more easily resolve difficult or high-pressure situations that may come up during the workday, without getting too worked up (which can worsen the situation)
Since mindfulness and meditation reduce stress, your health will likely improve, which will make you more productive and less likely to have to take a sick day
More effective multitasking, with less time wasted from lack of concentration.  The University of Washington did a research study on this topic, which is discussed in the article Mindful Multitasking: Meditation First Can Calm Stress, Aid Concentration.  Of the research participants studied, UW found that "Those who meditated beforehand spent more time on tasks and switched tasks less often, but took no longer to complete the overall job than the others."
Where and How to Meditate
Meditation and mindfulness practice is actually quite simple and can be done almost anywhere.  Many forms of meditation encourage focusing on breathing, which is one of the most basic actions we take throughout every day.  TheDailyMind.com even explains how meditation can be done at work while sitting at your desk, in its article How to Use Your Work as a Meditation Tool to Change Your Life.  Meditation can also take place while driving, walking or sitting outdoors, eating, and during numerous other simple daily tasks. The point is to focus only on the simple task you are doing and do your best to not let any other thoughts creep in.  Over time, this will help clear your mind so you are better focused throughout the day.
Businesses Encouraging Meditation and Mindfulness
More and more places of business are encouraging meditation for employees to enhance performance and quality of life.  According to the UK human resources website Personnel Today, companies that are beginning to incorporate mindfulness into the workplace include Google, Glaxosmithkline and KPMG.  Internationally, conferences on the topic of mindfulness in the workplace have started popping up over the past couple of years, in countries such as England and Scotland.  The website also discusses the secularization of mindfulness, which has in the past been associated with particular religions.  This in turn has made the practice of mindfulness more accepted by the general public.
Becoming accustomed to meditation and mindfulness is not something that will happen overnight.  The mind is a very difficult thing to control, and even those advanced in the practice of meditation slip up every now and then and must re-center themselves.  So just give meditation your best shot, and don't get frustrated if you struggle at times, especially in the beginning.  As a result of making this effort, your work life is likely to become not only more productive, but happier.
The following two tabs change content below.
Jessica Cody
Jessica Cody, a native of Fairfield County, Connecticut, has a background in online marketing and public relations. She is a graduate of the University of Connecticut, where she studied Journalism and Political Science. She is also an avid runner with a passion for the outdoors.
Latest posts by Jessica Cody (see all)