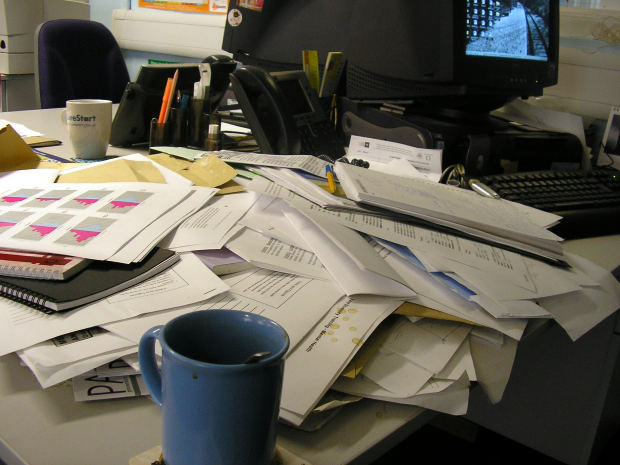 Work should never be something that is dreaded or constantly wished away. If you are perpetually unhappy and tense during work hours, your quality of life is taking a huge hit. Who wants to wake up every day knowing there is no joy in sight until the day ends?  This is not to say work should never be stressful, because hey, that's why you are generating a paycheck.  But it's likely that many of the workplace issues driving you mad are simply not worth getting that worked up over.  Occasionally a job or career change may be in the cards, but in many cases the answer is much less complicated. In the quest to achieve a calmer disposition in the workplace, making a few small adjustments can often go a long way.
Feng Shui Your Desk
The way in which you arrange your work area can have a considerable impact on not just stress level, but also other qualities and skills vital to your work performance.  It goes without saying that a clean, organized desk lessens the feeling of chaos even when business affairs are a bit disorderly.  Using certain colors for office supplies and equipment, and photos of people and things you love can also brighten the mood.  In the article Feng Shui: The Ultimate Guide to Designing Your Desk for Success on Greatist.com, writer Emily Shoemaker goes much deeper with the concept of Feng Shui for the work area.  Some of the pointers she gives for creating a low-stress work environment include placing your desk in view of the office entrance to signify opportunity, placing valuable items on your desk to promote prosperity, and having a reference book nearby to encourage more knowledge and wisdom.
Workplace Pets
It's been proven that the company of animals has many health benefits.  Having a friendly animal nearby, particularly a dog, can also lower workplace tension tremendously.  No matter what is going on, many people can't help but feel a little bit better when they experience the unconditional love a dog has to offer. Many offices now have a company pet, or allow employees to bring their own, because not only does it lower everyone's stress levels, it also increases productivity and helps build workplace camaraderie.  Fastcompany.com editor Denis Wilson points out in Pooch Power: What Dog-Friendly Workplaces Can Do for Your Business that not only has having his Labrador Retriever around lowered his stress levels while working, it has also created more structure in his workday.   Human beings are more likely to feed themselves and get some exercise if their dog needs it as well.  If you are allergic or if for some reason it is not possible to have an animal around, do the next best thing and get a plant so you at least have something beautiful and living nearby.
Laughter is the Best Stress Medicine
Nothing is worse than sitting in an office with silence so awkward you can hear a pin drop and tension so thick you could cut it with a knife.  Even when things are going fine, just existing in this type of environment can cause stress.  While employees should stay focused on the work at hand and not try to constantly distract each other, tasteful humor can make getting through the workday much less painful.  Let's face it, we all make mistakes, and others will let us down at times.  If we can laugh at these things rather than be ashamed and resentful, it will allow us to move on and do a better job tackling the next project at hand.  In 10 Reasons Why Humor Is a Key to Success At Work, Forbes.com writer Jacquelyn Smith discusses how humor in the workplace makes everyone not only more comfortable, but more approachable in the eyes of clients and co-workers.
Have Small Things to Look Forward To
To break up the monotony of the day, make sure you schedule a few small breaks with activities that will boost your motivation.  This could include a phone call with a beloved friend, a spiritual or inspirational reading, or a short walk.  It is best to force yourself to get up from your desk for at least a few minutes here and there even if you don't want to, because it will increase your focus and productivity when you are working.
Work is a necessity of life and always will be.  Most of the time we may not be able to change what is going on at work, but we can change the way in which we deal with it.  Often times the only change that needs to take place is within you.
The following two tabs change content below.
Jessica Cody
Jessica Cody, a native of Fairfield County, Connecticut, has a background in online marketing and public relations. She is a graduate of the University of Connecticut, where she studied Journalism and Political Science. She is also an avid runner with a passion for the outdoors.
Latest posts by Jessica Cody (see all)