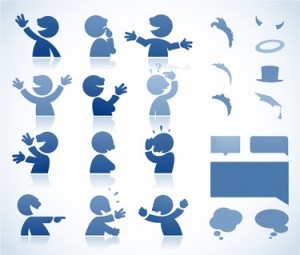 The body does talk. Different types of gestures and postures send different types of signals. Since interviewers are also quite adept at reading body language of job applicants, you should make sure you are sending the right signals. In fact, you should learn how to make your body talk in a way that enhances your conversation and impresses the hiring manager.
According to career experts, it's crucial to have body awareness before you sit face-to-face with the interviewer.
Get the Body Under Control
It's important to have your body movements, gestures and postures under control. Each particular body posture has a specific meaning. If you are not aware of your body movements, you may send wrong signals. It's quite easy to make mistakes with your body language because an interview usually makes you nervous. Therefore, you should know about the different types of body postures and their meanings and use them appropriately.
With more and more practice, you'll be able to have complete body awareness and be able to get your body under control.
Clothes That You Wear
When talking about body language, one thing that carries utmost significance is the way you dress yourself for the interview. Clothes can either make you feel comfortable or uncomfortable. If you feel comfortable in the clothes you have worn, it's surely going to boost your confidence. Boosted confidence further helps you improve the body language.
You can never send positive signals through your body language unless you are feeling good in what you wear.
Know the Moves
Right from the moment you enter the interview room, you should be careful about your body movements and gestures. Whether it's the handshake, body postures or hand gestures, you need to make sure you use the right moves so as to look interested and attentive.
Begin it all with a firm handshake and a warm smile. Once the interviewer asks you to have your seat, you should get seated appropriately. Many job applicants make the mistake of shaking their legs or sitting with their legs crossed. This is a sign of nervousness. It's always recommended to put both your feel on the floor and sit with your back straight.
The way you move your eyes also speaks a lot about what's going on in your mind or whether you are speaking the truth. Make sure you make eye contact continuously while giving a response. However, the eye contact shouldn't be so focused that it becomes a stare. If you have been looking into the interviewer's eye for too long, it's good to break away and then make the eye contact once again.
One of the most common mistakes that many job applicants make is that they sit with their arms folded. According to experts, it's a body language that sends signals of being defensive. It simply closes you off. It's good to have your hands on your knees unless you're making gestures.
Nodding is a body language that people use to show agreement. Even during an interview, you can use nods to agree with the interviewer. However, you shouldn't do it excessively.
Don't Give Mismatched Expressions!
When letting your body talk during an interview, you should also remember not to give mismatched expressions. Every response or answer that you provide should be completely in tune with your facial expression. Otherwise, you'll leave a bad impression on the interviewer.
There are many more body languages, movements, and gestures that you should learn and practice the right moves more and more. Positive body language and the right moves are critical to achieving success with your job interview. Make sure you know them and use them appropriately.
Would you like to share an opinion? Please comment.
The following two tabs change content below.
Carl began his career as a recruiter in the year 2000. Since then, he has interviewed hundreds of job applicants, dealt with several hiring managers and helped a lot of people find better jobs. He's passionate about guiding people towards their best-suited careers.
Latest posts by Carl Mueller (see all)