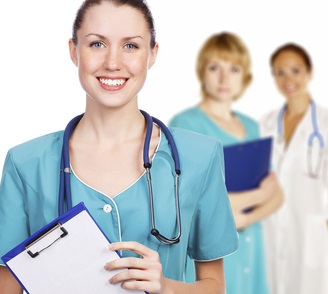 Don't like the sight of blood? Not good at math or science? There are still plenty of opportunities in the healthcare industry for those who are not doctors or nurses. A multi-billion-dollar international industry, the healthcare field offers a multitude of career opportunities in every job category. Management and Compliance Hospitals and medical practices are not very different from any other corporation or organization. They all have a management hierarchy to oversee various organizational functions, from facilities to finance and operations, and everything in between. Budgets need to be developed and managed, salaries and benefits need to be administered, supplies need to be ordered and monitored, and facilities and equipment must be in working order. Each of these functions typically has an entire department allocated to it, with a variety of jobs available from entry-level to experienced.
Alternative jobs in the healthcare industry:
Information Technology (IT)
Hospitals are run almost entirely on computers and other machines. Scans and other diagnostic tests that used to have actual films can now be done entirely electronically, such as x-rays, CT scans, MRIs, and ultrasounds. Patient information systems require extensive intranet and internet services throughout the hospital, many of which interface with outside systems, such as insurance companies or public health records. Capable IT personnel are essential to keeping a hospital functioning on a daily basis, particularly as web security becomes more challenging with breaches like the most recent Heartbleed.
Social Work and other Professionals
Social workers are also critical. In many hospitals, patients are assigned a patient advocate to ensure their needs are being met and concerns are heard by medical professionals, as well as to help patients understand the depth and volume of information they receive about their conditions on a daily basis. In addition to social workers, many hospitals have palliative care teams to help patients navigate their hospital stays, which often include such wide-ranging professionals as chaplains and other clerics, psychotherapists and psychologists, and occupational and speech pathology professionals to provide a well-rounded array of services to patients.
Patient Satisfaction
As in many other industries, customer service has become more a more significant component of the healthcare field. Medicine has shifted from the mere provision of life-saving services to ensuring overall patient comfort and satisfaction with their care Patient satisfaction is a growing niche in the field of healthcare, with serious potential impacts on quality control procedures and funding sources.
Population Management
This one is for the statisticians—population management is the next big thing in the healthcare field. With a shift in industry focus to disease prevention and improving wellness measures, more hospitals are investing in understanding their surrounding communities and developing strategies to improve access to care, particularly in reducing the use of local emergency departments as primary care providers. Public health advocates and statisticians will be critical to filling this growing need as more medical institutions work to grow their understanding of chronic disease progression in their area and how to prevent certain health issues from becoming more widespread.
Foundations & Marketing
Every organization can always use more money, and hospitals are no exception. Whether it's for research programs or charity care provision, there are many budget lines where the expenses exceed revenue, requiring capital from other sources to fill those gaps. Grant writers, contract administrators, special events planners, and major gifts officers are just some of the varied positions needed to manage a successful hospital foundation. Marketing and communications specialists are needed to ensure the hospital is able to grow its market share and maintain a positive presence within the community.
Government Relations and Regulatory Affairs
Public affairs and government relations professionals are needed to help ensure that local, state, and federal laws are supportive of the healthcare industry to ensure ongoing revenue and long-term sustainability. Additionally, compliance is a multi-faceted and hypercritical area for any medical institution, with federal and state regulatory issues, healthcare-specific rules and regulations (i.e., HIPAA or the Affordable Care Act), and research/clinical trial protocols to maintain. Attorneys and other compliance professionals are necessary for hospital to run smoothly and maintain its operations.
Administrative Professionals & Reception Services
If you've ever been to a hospital or doctor's office, you know that the tenor of the visit can change in an instant based on the personality and attitude of the administrator greeting you and checking you in for your visit. Administrative professionals and receptionists are often the first faces patients see when they walk through the door, and it is critical to have people who are both competent and organized, as well as pleasant and welcoming, to help reassure to patients.
While doctors and nurses are the backbone of the healthcare industry, the rest of the skeleton is made up of a variety of other professionals that are just as critical to the success of any medical institution. With such a broad spectrum of opportunities, a career in the healthcare industry is not out of reach for those who aren't interested in science or practicing medicine.
The following two tabs change content below.
The Jobdiagnosis Blog comes from a collection of talented business professionals and writers from around the world.
Latest posts by Jobdiagnosis Blog (see all)