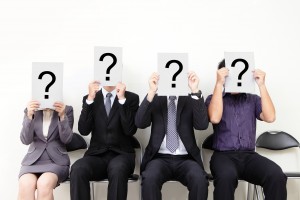 Let's face it—interviews are tough and mentally taxing. Not everyone is lucky enough to land a job on their first try, but following the steps below can help maximize your confidence levels and land more job offers. The reason you've been overlooked interview after interview is usually no coincidence, but if you can identify the problem early in the process it will be easier to correct. By optimizing your interview strategy, you will simultaneously boost your chances of landing jobs. It can be hard to think about yourself from the standpoint of a critic, but it's a great way to evaluate your interview experiences. Take a look to find out more!
1.)    Too Confident
Have you ever absolutely aced an interview only to find out days later that you didn't actually get the job? People always talk about confidence as an important factor during the interview process, but there is definitely such a thing as being too confident. Overconfidence projects arrogance and pretentiousness. If you've been saddled with rejection, maybe it's time to adjust your attitude. There is nothing wrong with being confident, but once you take it to the next level you'll start to look bad. There is a fine line between enough confidence and too much confidence, so you need to tread lightly.
2.)    Not Enough Questions
After you've learned about the potential job and described your past work experiences with human resources, they will usually ask if you have any questions for them. Always ask these. Sometimes it can help to have a predetermined set of questions written down in a notebook or memorized, but the best questions are those you formulate from the context of the interview. If you need to take notes during the interview as these snippets of information present themselves that's fine. In fact, taking notes will have a positive impact on your overall image, because it shows that you are actively engaged and retaining interest. Get a solid set of questions prepared, and try to make them count. This step can reverse a bad interview, or increase your chances of landing the position on a successful one.
3.)    Are You Qualified?
If you pay attention to detail during your job hunt, you'll likely start to realized that employers have highly specific requirements for their listings. Usually you need some sort of degree, a minimum amount of work-related experience, and a history of success carrying out related job responsibilities. This means that you need to be focusing on jobs that you can actually land, and not "stretches." Even if you meet the bare minimum requirements, there is usually another candidate out there who simply has more experience. If you have some credentials and keep receiving rejection letters / emails, it might be time to reevaluate your job hunting strategy. Start applying to jobs that you know you will get, and work your way out from there. Remember, it's always easier to find a job once you already have one.
4.)    Appearance
This might seem abrasive and shallow to some, but the reality is that you will be judged based on how you look—especially during periods of first impressions. Appearance isn't just your clothing choice. It's how you have your hair styled, whether or not you are clean shaven, and even general personal hygiene. Why is this important? During the interview process, human resources is trying to determine not only if you'll be a good fit for the actually job listing, but also whether or not you will fit into the company culture. If they determine that you probably won't get along and mingle with other coworkers, it's likely that they will choose someone who will. You'll be spending the majority of the week at your job, so they need to ensure that you will actually be a good fit—education and work background aside. Nobody wins the interview process based on appearances alone, but it can definitely strengthen your case for becoming the newest member of the team.
The following two tabs change content below.
Matthew Welch
Jobdiagnosis blog author Matthew Welch is an SEO strategist and content marketer from Boston, MA. Read blog content relating to job search by Matthew Welch.
Latest posts by Matthew Welch (see all)