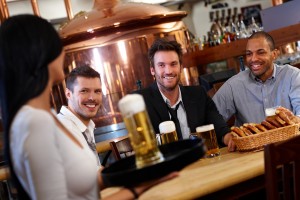 Maybe you are contemplating entering the workforce to help out your family, pay for education or transportation, or simply to generate a little extra spending money. Your first job should not shape the path of your career, so the options are basically limitless. What makes for a great first job? That's for you to decide, but some of the common factors are pay rate, hours, level of expertise, and advancement potential. Here is a list of the best first jobs for all types of workers. Working a job is always a good idea, because you monetize time that would have otherwise been wasted. The extra paychecks will start to add up and make a difference. The lessons in responsibility you learn at work will carry with you for the rest of your life.
Here is a list of the four best first jobs for new workers:
1.)  Cashier / Bagger
A lot of Americans take their first jobs at a grocery store or other retail chain. It's because they are likely to hire workers with no experience, because the available jobs are easy to teach. Cashiers usually get paid slightly more than baggers, although this is not the case at every job. Cashiers and baggers are usually stationed on the front end, which means direct experience in a customer service role. There are plenty of jobs available in grocery / retail that can make for an excellent career, but most people move on to other companies after a few years. The hours are flexible and the pay is usually decent, although this can be dependent on several factors. Unless there are no major red flags on your resume / background check, it's very likely you'll land a job and start working immediately. Just be ready to ace your training classes so you can start work faster.
2.)  Lifeguard / Beach Guard
Many high school students take on summer jobs after the school year ends. This allows plenty of time for school work, but once the summer rolls around, there is usually too much free time. Lifeguarding is a great first job, because you not only get to sit out in the sun for the majority of your shift, but you also get to meet and socialize with people. Not to mention the pay rate is a lot higher than most entry-level & first jobs. Lifeguarding usually requires training (CPR, First Aid, etc.) but it's definitely worth the time investment. Your company will usually pay for all training. Depending on where you work, a lifeguarding job could pay upwards of $20/hr. Not bad! "Beach Guards" are slightly different. They act as lifeguards but without the training. Their main role is to make sure all people on the beach belong to the beach organization (private beach). It's a great job, but is usually only a summer gig, especially the further north you go.
3.)  Paper Delivery
There is no age requirement to become a paper delivery worker. All it requires is the ability to get from point A to point B and a responsible attitude. Nowadays people tip generously, but this wasn't always the case. Paper delivery won't net you a good income, but it's a part-time job that will put some extra spending money in your pocket. It's a great job for younger kids who aren't old enough to hop on a payroll but want to work and save money. The salaries vary too much to put a solid average, but $8-$15 per hour is realistic in today's newspaper delivery industry. Just have a plan for when people decide they don't want to pay you on time, because the paper company will want their money no matter what. You are essentially buying newspapers directly from them at a discount and reselling them.
4.)  Waiter / Waitress
There are a lot of opportunities to advance in the restaurant business, but waiters / waitresses can still make a good amount of money in a short period of time. This will depend on the size and menu of the restaurant. Busy, high-end restaurants are favorable for wait staff, because checks are usually larger which translates to higher tips. Tips are based on overall percentage of sales, so the more sales the better. This is why the highest renumerated waiters are well-versed in upselling product. There is usually a miniscule hourly wage paid to wait-staff, which is just enough to cover taxes. It's all tips. They survive on the generosity of others, but it can be a high-paying career at the right location. Once you land your first waiting job, it will open the door to work at a number of other restaurants. However, many won't hire without experience, so you might need to take a lower-level job and work your way up the ladder.
The following two tabs change content below.
Matthew Welch
Jobdiagnosis blog author Matthew Welch is an SEO strategist and content marketer from Boston, MA. Read blog content relating to job search by Matthew Welch.
Latest posts by Matthew Welch (see all)