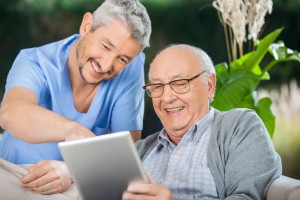 Some people can't help but turning up the volume whenever they speak. It's all in their natural personality. Being charismatic, friendly, and outgoing can be an excellent attitude to bring to the workplace. People love working with outgoing people because it can have a positive effect on the whole team. Do you specialize in brightening people's days and making as many friends as possible? It is highly likely that there are many employment options available in your area of expertise. Consider the following careers if you meet these criteria.
Top Careers for Outgoing Employees
1.)    Account Manager / Account Executive
These are two sales jobs that are excellent for outgoing workers. Sales employees interact with clients and prospective customers on a daily basis, and there is a direct correlation between an outgoing attitude and sales volume. The nicer you are the better your communication will be, and the more likely customers will be to buy your product or service. Not to mention that there is potential to meet clients in person. Simply put, if you are an outgoing and charismatic salesperson, you'll probably be earning a significant chunk of change. If not, there are plenty of sales jobs available in almost every industry. Try a quick search!
2.)    Human Resources Manager
As a human resources manager, the main responsibility is to recruit, interview, screen, and select candidates when new positions become available within the organization. They also manage general employee relations, and regularly communicate with members of the office regarding these matters. Meeting and speaking with people on a regular basis is a requirement, making it a great place for outgoing employees to work. It always pays incredibly well, which is a huge plus.
3.)    Teacher
Being outgoing as a teacher isn't a requirement, but the more charismatic you are, the more your students will enjoy your class. The best teachers are those who interact with students on a regular basis. Teachers who sit behind their desk and hand out assignments aren't developing their class the way they should be. When you are dealing with students directly, it helps to excel in talking and listening, which certainly applies to an outgoing individual.
4.)    Registered Nurse
Being a nurse is an excellent career, and we've talked about it in past blogs as being one of the best. With that being said, it's also an excellent career for those workers who consider themselves outgoing. Nurses deal with patients on a regular basis, and they also communicate with doctors and other health professionals. When you visit a hospital as a patient, having an outgoing and friendly nurse can make all the difference.
5.)    Receptionist
The main duty of a receptionist is to answer incoming calls and make sure they are forwarded to the proper line. For large companies, it's an incredibly busy job. At smaller companies, receptionists can serve many roles, including a greeter, company spokesperson, or a general administrative worker. Being outgoing is definitely not a requirement, but it's a personality trait that can enhance the career of a receptionist. It's your job to deal with clients and customers on a daily basis, and you should do so with a smile on your face. This is also a great way to move up within an organization, since receptionists can evolve into a variety of roles.
The following two tabs change content below.
Matthew Welch
Jobdiagnosis blog author Matthew Welch is an SEO strategist and content marketer from Boston, MA. Read blog content relating to job search by Matthew Welch.
Latest posts by Matthew Welch (see all)