Despite a declining unemployment rate, millennials (those born after 1980 who reached young adulthood at the turn of the millennium), are still struggling to find jobs. According to the United States Department of Labor Bureau Statistics, the unemployment rate for young workers between the ages of 16 and 24 was 12.2% as of July 2015.  The National Center for Education Statistics reported that an estimated 2.8 million university graduates entered the workforce last spring.   For the millennials entering the workforce that are lucky enough to find a job, a large amount of them face jobs with wages much lower than expected.  According to Pew Research, the number of underemployed young people (making less than $25,000 per year) is the highest it's been since 1990.  This is not near enough to help pay off the student debt that many of these young professionals have racked up.  For more specifics on the millennial generation, check out our infographic below: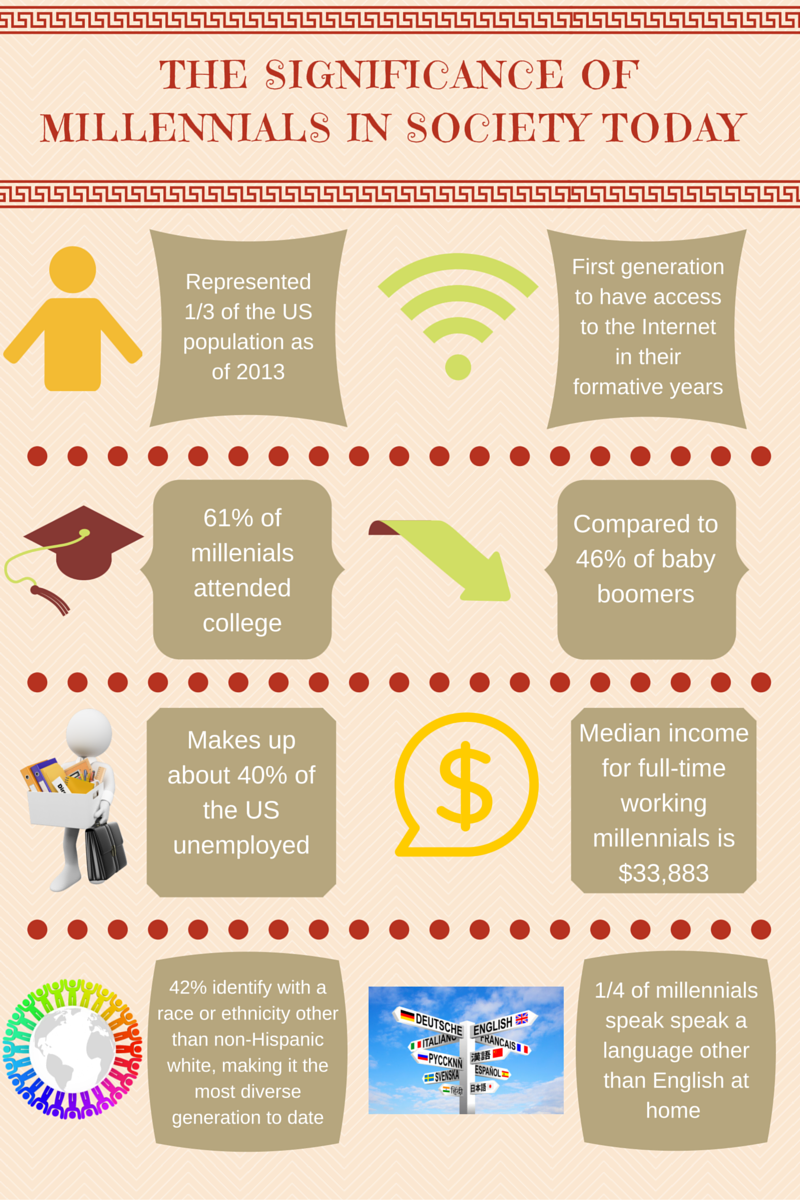 Here are some job search strategies to help the millions of millennials affected by this trend:
1)      Focus on quality instead of quantity
It can be tempting to fire out hundreds of resumes in your job search, but millennials are better off focusing on a few jobs that really fit their qualifications and passions.  Customize your resume for each job, using keywords from the job description.  Also create a cover letter for each job you apply for to highlight your best qualities and define who you are as a professional.  This will greatly increase the likelihood that your resume will be noticed, instead of just sitting in the inbox of a recruiter.
2)      Keep busy
While you search for a job, try to find an unpaid internship or volunteer commitment that will give you career experience, or create an entrepreneurial project of your own.  This will prevent the dreaded gap in your resume, and make you more attractive to potential employers.  Also, it is important that you never stop learning, so keep up your knowledge of the industry you are focusing on in your job search by reading any relevant books and attending lectures or events in your area.
3)      Don't rush into grad school
While for some millennials' career paths it makes sense to move on directly from college to grad school, it shouldn't be an answer to boredom and unemployment.  Unless you are absolutely sure about what you want to study, and think it really can benefit your career in the long run, hold off on entering grad school.  You can always reconsider in a few years when you have more work experience and a better idea of what you want for you career.
4)      Network intensely
Make a list of companies and job titles that really peak your interest, and search social media networks such as LinkedIn to find contacts you can forge relationships with.  See if any of your former co-workers and classmates are connected to anyone that works at one of these companies, and see if they can introduce you.  Even if there isn't a current opening at the company you are eyeing, you could be grooming some valuable long-term opportunities.  Get involved in professional organizations geared towards the industry you want to work in, attend college alumnae events, and keep in touch with any family and friends that can aid you in your job search.
5)      Establish & maintain good credit
Nowadays, jobseekers need to be prepared for not only background checks, but also credit checks during the hiring process.  So it is important that millennials do whatever they can to avoid damaging their credit.  College loan debt can make it a challenge, but as long as you make an effort to make any payments you can most employers won't look down on you for it.  Don't rack up credit card debt on unnecessary purchases, and consider cutting down on expenses by finding a roommate or living with family for a while if you have the option. ClarkHoward.com is a great online resource for advice on saving money and establishing and maintaining good credit.
The following two tabs change content below.
Jessica Cody
Jessica Cody, a native of Fairfield County, Connecticut, has a background in online marketing and public relations. She is a graduate of the University of Connecticut, where she studied Journalism and Political Science. She is also an avid runner with a passion for the outdoors.
Latest posts by Jessica Cody (see all)