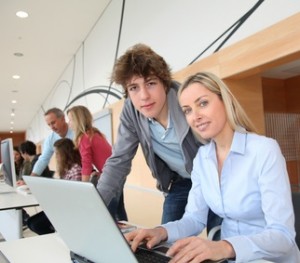 In today's competitive world, traditional degrees aren't enough to help you land a job of your interest. You'll understand this as soon as you graduate from college and start applying for jobs. No matter what job or industry you want to get into, employers always look for candidates with relevant practical knowledge, experience and skills.
That's exactly where doing an internship comes into play.
As a matter of fact, doing or completing an internship program brings you numerous benefits for your career. College grads who have completed at least one internship program have an edge over the competition.
Here are seven great benefits of an internship –
#1. Acquire More Knowledge
There's a lot more to the real world than just classroom study. One of biggest reasons you should go for an internship program is that it allows you to obtain more practical knowledge. As a matter of fact, internships offer you similar practical knowledge that the professional world does. If you are planning to become a part of the real world, you should always complete an internship, whether paid or unpaid.
#2. Make the Right Career Decisions
Theoretical knowledge doesn't make you aware of what it will be like to work in the real professional world. While working as an intern, you'll get a well-rounded view of your career and which direction you should head in. It opens your eyes to several career options that you may not have thought about yet.
If you want to avoid changing careers in future, doing an internship program is highly recommended.
#3. Build Professional Experience
If you plan to step into the healthcare industry, for example, you can look for internship opportunities at hospitals or nursing care centers. Once you have completed the internship, you'll obtain valuable professional experience with which you can easily set yourself apart, get ahead of the competition, and land the job your interest quickly.
#4. Collect Letters of Recommendation
One of the biggest benefits of completing an internship program is that you'll be able to gather recommendation letters. By working really hard as an intern and dedicating yourself completely, you can easily win over the organization or the company and request them to write letters of recommendations or reference letters that you can use to land potential jobs in future.
#5. Develop Interpersonal Skills
The social skills and the professional behavior of a job applicant play a key role in landing them a potential job. While hiring candidates, most of the employers look for those guys that have strong communication, convincing and interaction skills. Doing an internship allows you to build all these skills.
#6. Network
Internships are also advantageous in the sense that they give you an excellent opportunity to build your professional network. If you are aware of the benefits of career networking, you'll never say 'No' to completing an internship program whether it's a paid or unpaid program.
While keeping your focus on what you wish to attain in career, you can always build connections relevant people and leverage the benefits in the near future. Networking works wonders!
#7. Get Better Salary
Doing an internship doesn't only help you to get a taste of the real world and build some valuable experience, but it also makes you attractive to employers. Most of the candidates who have completed internship programs get a better salary as compared to non-intern graduates.
If you plan to achieve career success without wasting time, you should always find time to complete an internship no matter how busy you may be with your college studies. Whether it's a paid internship or an unpaid one, they are a surefire way of preparing yourself to take on the real world really well.
Please share your views below.
The following two tabs change content below.
Carl began his career as a recruiter in the year 2000. Since then, he has interviewed hundreds of job applicants, dealt with several hiring managers and helped a lot of people find better jobs. He's passionate about guiding people towards their best-suited careers.
Latest posts by Carl Mueller (see all)