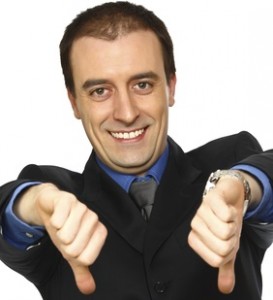 Getting a job of your interest is good. But you should also constantly look for opportunities of promotion or create them yourself. If you are not getting a salary hike or not receiving promotion, you cannot always blame the economy. There are a lot of people who will miss out on an opportunity to get promoted at work because they lack some important skills.
It's also a harsh truth that hard work alone will not get your promoted to a higher level job position. There are several other factors that play a key role as far as getting a promotion is concerned.
Here are five reasons for 'NOT' getting promoted –
#1. You Don't Promote Yourself
Whether you know it or not, you should agree to the fact that self-promotion is an art. While doing a job in your chosen field of work, you should always look for opportunities to promote yourself. Many talented people in this world don't get a promotion only because they don't know how to promote themselves. If you don't know, learn to promote yourself.
#2. You Have Strained Work Relations
Another good reason for losing a job promotion is because you have strained your relationships with others in the workplace. While in a job, always look at things from a professional point of view. If you start taking things personally, you'll get hurt, react, and strain your relations with your managers or senior level employees in the workplace.
Instead of straining your work relations, you should work upon growing them so that senior managers have you in their minds and suggest you as soon as opportunities for work promotion arise.
#3. You Dress Inappropriately
Dressing inappropriately or casually to work, whether you believe it or not, is one of the biggest reasons for not getting promoted. How you dress yourself is something that's always on people's minds. The way you dress actually helps others to form an impression about how professional you are. Without appropriate workplace dressing, you should not expect a job promotion.
So, start following the key workplace dressing tips.
#4. You Have a Problem with Your Attitude
You'll be surprised to know that a large number of job applicants are rejected for job offers only because they have a bad attitude. Today, employers are looking to hire the right attitude because they believe this is something they can't teach. Though carrying the right job skills is essential, they won't bring you much success if you have a bad attitude.
If you plan to get promoted quickly, you should analyze your attitude and polish it for the better as quickly as possible.
#5. You Lack Motivational Skills
Higher or senior level job positions also require certain important skills. One of the most important among them is the capability to motivate. If you are going to lead a team or people, you should always know how to motivate them so that you can help them realize their true potential.
Do you think you missed an opportunity for promotion at work recently? Please share your experience.
The following two tabs change content below.
Alex Strike has started his writing career in 2010. Now he is a passionate blog writer and essay specialist who has been writing his first e-book.. Alex is a big fan of reading, and he works as a writing coach at the moment.
Latest posts by Alex Strike (see all)