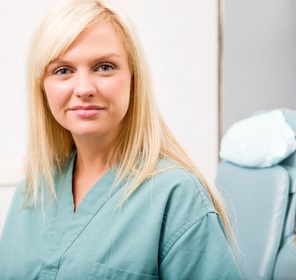 Though a higher academic qualification promises a better career, you don't always need to have a bachelor's or a master's degree to land a high paying job. Even a two-year associate degree in your chosen area of work can help you get a job with a handsome salary. Most importantly, fields like healthcare and technology offer a number of high salary jobs that you can occupy with only an associate degree, if you are ready to do so.
If you conduct some research, you'll see a good number of people working in science and engineering professions and earning a good salary while they only have a two-year associate degree with them.
Here are five popular job opportunities that you can choose from if you happen to be an associate degree holder. If don't already have an associate degree, you can also plan to complete one in your chosen area of interest.
This two-year degree is the fastest way of starting a new career.
#1. Dental Hygienist
Dental science offers many occupations for aspirants. Even with an associate degree, you can choose to become a dental hygienist.As the name suggests, the main job responsibility of these professionals is to deal with dental hygiene of patients. They help patients take good care of their teeth and gums so as to maintain a good oral health. They also use different types of tools and techniques to treat common dental problems.
Experienced dental hygienists may earn up to $60,000 annually or more. This is also a fast growing occupation.
#2. Nuclear Technicians
If you have an inclination towards nuclear technology, you can step into this eminent profession by becoming a nuclear technician.Though many employers prefer hiring nuclear technicians with a bachelor's degree, there are many others who invite candidates with an associate degree. As a nuclear technician, you'll work in science laboratories helping in the entire process of nuclear research and development. You'll spend most of your time with computers, advanced laboratory equipment and other experimental apparatus.
While working as a nuclear technician, you can expect to make an annual salary of as much as $65,000.
#3. Programmer
The IT field is also full of many jobs that you can get only with an associate's degree and earn a good income. Computer programmers who are skilled in C, C++, .Net, Visual Basic and JavaScript are in high demand across the entire IT or information technology industry. And you don't always need a bachelor's or a master's degree to step into the computer programmer's career. With an associate degree and the right set of skills, you can become a highly deserving candidate for most of the employers out there.
On an average, computer programmers earn a high annual salary of around $70,000 or more.
#4. Commercial Pilots
Around 35% of all aircraft pilots are commercial pilots. If you have a keen interest to step into the aviation industry, commercial pilot jobs welcome you with  good income potential. While in this occupation, you'll spend your time flying airplanes and helicopters. Commercial pilots are not employed for major airlines. Instead, they are engaged in testing aircrafts, monitoring traffic, or using aircrafts to dust crops, spread seeds and track criminals.
Apart from being an interesting job, becoming a commercial pilot will make you around $65,000 per year.
#5. Police Officer
Apart from healthcare and technology, you can also get a job in the local force as a police officer. You are ready to land these jobs either with a high school diploma or an associate's degree. While working as a police officer, you'll not only earn a good salary but also make extra money if you work overtime.
Police officer in the local force can expect to earn an annual salary of around $40,000 or more.
Which of these jobs do you like the most? Please feel free to talk about your interests or passions.
The following two tabs change content below.
Alex Strike has started his writing career in 2010. Now he is a passionate blog writer and essay specialist who has been writing his first e-book.. Alex is a big fan of reading, and he works as a writing coach at the moment.
Latest posts by Alex Strike (see all)