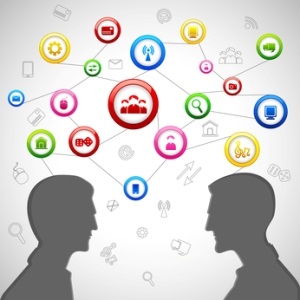 Finding a job of your interest these days isn't as easy as it used to be. With the advancement in technologies, both recruiters as well as jobseekers are using many different techniques to fulfill their needs. In the midst of all this competition, there's one thing that will always keep you ahead of other jobseekers – networking. If you are searching for jobs, you can never ever underestimate the potential of professional networking.
For jobseekers, networking brings plenty of benefits. Most importantly, networking also allows you to know about those jobs that are not advertised. But you need to know the key networking etiquettes.
If you don't know how to network effectively, given below are five important etiquettes to pay heed to.
#1. Know Your Goals
While networking professionally, everyone has a goal. So should you. Before you start to spend time on networking, you should have a clear understanding of what you want. When you are aware of your goals, you'll not only save your own time but avoid wasting your contacts' time as well.
A clear understanding of your networking goals allows you to connect with the right kind of people or professionals.
#2. Value Your Contacts' Time
Whether you are networking online or offline, one of the most important etiquette is to value your contacts' time. Even if you know an employer or "the HR department guy," you can't drop in at their office anytime. It's always better to get in touch via email or contact via telephone and schedule an appointment. If you don't value your contacts' time, they won't value you either.
Even when you are networking online via a social media website, it's safer to get in touch with a contact when they are not busy.
#3. Don't Ask for a Job
Don't hurry or look desperate while networking with other professionals in your industry or area of work. Networking isn't instant. And you can't directly ask others whether they have a job for you. Rather than taking the direct approach of asking for a job, you should spend some time genuinely with others and build relationships with them. It's a good idea to ask for job related information or seek career advice rather than directly asking for a job.
#4. Follow the Give-and-Take Formula
Networking, whether online or offline, is never a one-way street. To maximize the benefits of networking, you should always abide by the give-and-take-formula. If all you want is 'take', you'll create a selfish image for yourself. It will reflect poorly on your reputation without any benefits.
If you want something from someone, you should also look for opportunities to give them back or help them out in any way you can.
#5. Polish Your Communication
One of the most important networking etiquettes is effective communication. Since networking is all about connecting with professionals, you can't achieve success at building a strong network unless you know how to communicate effectively. Whether it's verbal or written communication, you need to make sure you express your point really well without making any kind of language errors. Poor communication skills will become a big hurdle.
Networking is a tested tool that you can use to beat out the competition and get a job of your interest quickly. By following the above-mentioned etiquettes, you'll quickly make your networking efforts fruitful.
Don't forget to leave a comment.
The following two tabs change content below.
Peter is a Senior Managing Consultant at Wenulima Pty, a broad-based consultancy company which specializes in social media, content marketing, hospitality, languages and business management. He's well known as a corporate and personal social media branding strategist. He regularly coaches individuals in key areas like leadership and management.
Latest posts by Peter P. Kadzutu (see all)