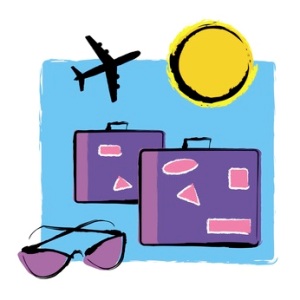 Did you ever plan to step into the travel industry for making a career? Well, the travel industry has no shortage of jobs if you have a strong passion for helping travelers or tourists get the most out of their holidays. People who choose to work in the field of travel and tourism are aware of the benefits that this industry offers. Do you know what those benefits are?
If you have an interest for working in the travel industry, you may choose to work as a travel agent, travel guide, a tour operator, hotel staff, flight attendant or a reservation consultant.
There are many other opportunities that await you.
But before you step into the travel and tourism industry, make yourself aware of these four good reasons to do so.
#1. Get Endless Career Possibilities
Many people think that there are not too many job positions in the travel industry. If you want to make a career in this industry, you'll find a wide range of possibilities to choose from.
Have a look at these sectors –
Travel Agent
Tour Operator
Events
Wholesaler
Cruising
Tourism Services
Transport
What you see above are areas of the industry that offer a wide range of job positions to choose from. The tour operator sector, for example, offers jobs for positions like general manager, product manager, marketing manager, marketing co-coordinator, reservation sales agent and inbound travel consultant among others. Likewise, every one of the above mentioned sectors has plenty of career opportunities for you to explore.
#2. Make Money While You Travel
Though money is not everything, it's definitely something. The travel industry is an ever-growing industry. If you have a strong passion and carry the required skills, the industry welcomes you with open arms. There are ample opportunities for making a good income. But what's really interesting about travel industry jobs is that you make money while you travel. There are plenty of jobs in the travel industry where you'll be required to travel for doing your job. Traveling on the job is a wonderful experience for many people.
#3. Meet with New People
This is yet another reason for people who choose to work in the travel industry. Traveling is fun, because it allows you to meet with people from different places of the world and backgrounds. It's an opportunity for you to explore new cultures, customs and traditions. If you are lucky, meeting with new people on a regular basis may also bring you new career opportunities.
#4.Gain Knowledge
Travel industry is all about travel or tour planning. While working in the industry, you'll come to know about new travel destinations and activities every day. You'll know about the most popular places of interest around the world. You'll know about adventurous activities.
Working in the travel industry requires a lot of interaction. Therefore, strong communication skills are a must in order to occupy a job in this field. Other skills that will help you build a successful career in travel include selling skills, sense of humor, computer skills, problem solving skills, leadership skills, a good memory and the ability to work in a team among others.
Feel free to share your opinions and thoughts.
The following two tabs change content below.
Carl began his career as a recruiter in the year 2000. Since then, he has interviewed hundreds of job applicants, dealt with several hiring managers and helped a lot of people find better jobs. He's passionate about guiding people towards their best-suited careers.
Latest posts by Carl Mueller (see all)